Tesoro DeLeon Reviews, Price and Specifications
All-Purpose Land Metal Detector
Retail Price: $599.00
Number of Reviews: 3
Avg. Rating (5.0 Stars)

Email to a friend.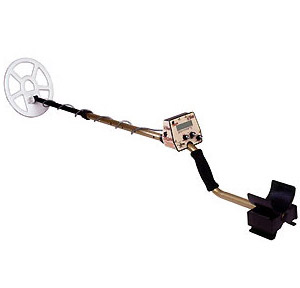 Specifications:
Operating Frequency: 10 kHz
Searchcoil Type: Concentric
Searchcoil Size: 9" x 8"
Cable Length: Approx 3'
Audio Freq All Metal VCO: Approx 350 to 950 Hz
Audio Output: 1-1/2 inch speaker and headphone jack
Headphone Compatibility: 1/4" stereo plug
Weight (may vary slightly): 2.98 lbs
Battery Requirement: Eight AA batteries
Battery Life (typical): 10 to 20 hours
Optimum Temp Range: 30° to 100° F
Optimum Humidity: 0 to 75% RH
Operating Modes: No Motion All Metal, Silent Search Discriminate
Lifetime Warranty
Very Accurate TID Machine
Brandon Moore in Newry Maine -

Hey there! If you are looking for a quality TID machine this is it. If you already have the Silver uMax, then this is like putting a screen on it. It works great once you learn what the ID readings the screen is telling you. And if you are also carefully listen to the tones, then you will find a lot. The only thing that I find is not that accurate is the depth meter. Sometimes it says that the target is deeper than it really is. I usually don't let that bother me. And the threshold works great for sizing your target as well. I have to say I'm not a big TID fan but this machine does the job very well. Once you learn the combo of tone with the TID, you will be digging great finds!
Jul 16, 2009
7 people found Brandon Moore's review helpful.
Best T.I.D Machine I've Ever Used
Brandon Moore in Newry Maine -

If you are looking for a simple turn-and-go machine, this is it. When it locks on 95 on the meter and you can't disc out the signal, you know 90% that it's going to be silver. One has to be careful on coins affected by Hallo effect, because sometimes the coin seems bigger than it is. But once you learn the "ins and outs" of this detector, you will defitnitly like it!
Jul 11, 2009
4 people found Brandon Moore's review helpful.
The Best "Turn On and Go" Detector Money Can Buy
Tim in Central Ohio -

I've had my Tesoro DeLeon for 6 years now. It's an absolutely stunning detector. Being a target ID machine, it is a coin-hunter's dream. It can be fine-tuned to the type of hunting you want to do without the complex system used by many other higher-end machines. Believe me, this machine can keep pace with the best of them. I have hunted alongside XLTs and other fine machines, and this one stays right with them. With the stock 9" coil, I can pull wheaties out of the ground past 10" with ease. The two greatest features, other than its coin capabilities, are its weight (very light and easy to swing for hours) and its lifetime warranty. Tesoro is a quality company that backs up their product and is willing to keep their customers happy. If you're looking for an entrance machine that you will end up using for decades, this is the one.
May 17, 2009
36 people found Tim's review helpful.