Metal Detecting Ghost Towns in Northern Urals, Russia
Now we had to find the way to the site through the forest. It was going to be a challenge as the only topographical map we had was not of a proper scale for hiking in the wilderness. We sprayed ourselves with bug repellent, put on the protective cloths, and got ready for five miles of bush whacking, i.e. hiking straight through the woods.
We hoped to come across any dirt road that would go in general direction of the site. But we could not find any as we zigzagged in the woods. At least the river was running parallel to our path nearby and prevented us from getting lost.
It took us two hours to hike to the site. Little we knew about a good dirt road off the paved highway. It was only two hundred yards away from the point where we entered the woods. Well… finding the site was a great relief to us anyway.
We experienced the most joy when we saw it. The last year's tall and dry grass was burned everywhere in the open space! The ground surface was black and smooth. There would not be any depth loss because of the absence of any obstacles between the coil and the ground, a perfect condition for metal detecting! Also, the spots where the houses used to stand could be easily identified by the piles of wood and brick debris here and there.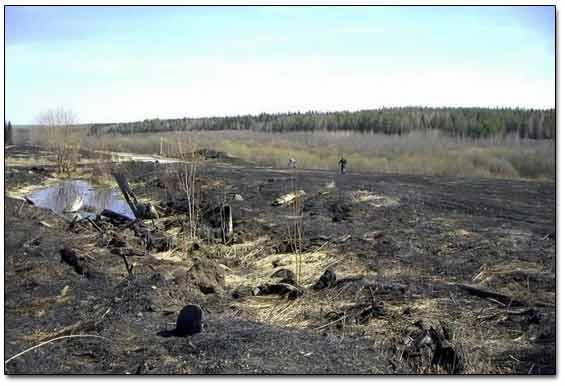 Next, we had to set up our camp. The tents were out of question because of the layer of black ashes on the ground. But we needed some protection from the constant cold wind. The small crater inside a huge pile of dirt and debris was the only proper place for our camp.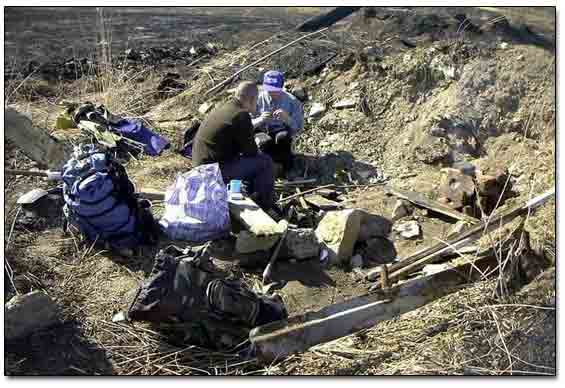 At least, the abundance wood board debris eliminated a problem with finding firewood. And the bricks scattered around were a perfect material for building a fireplace. I quickly built one and started boiling water for tea.
Our Improvised Fireplace
After we had our traditional treasure hunters' meal, canned meat with instant noodles, we were anxious to start metal detecting. All of us were armed with good machines: Minelab Explorer XS, Minelab Musketeer, and Spectrum XLT. We were elated. And I was happy to finally metal detect in my homeland.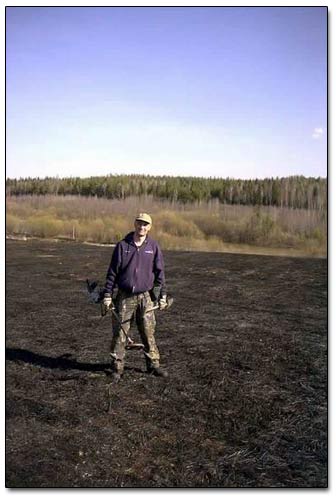 Number of pages: < Previous | 1 | 2 | 3 | 4 | 5 | 6 | 7 | Next >