Traveling to a Remote Metal Detecting Location in the Northern Urals
Our adventurous trip began at 6 am when we left the city. The early morning suburban train was not packed with passengers so we could take the seats and take a nap for three hours. I did my best to take a good picture of Vladimir and Slava but the railroad car was shaking vigorously, so this is how this picture of them came out.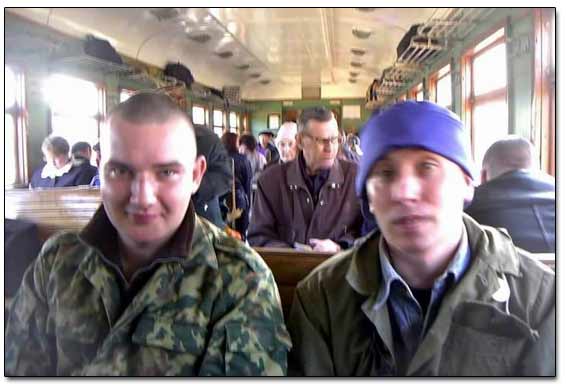 Before we took a nap, we went to the smoking compartment for a drag. When the train arrived at the next stop, a few people came in. Among them there was a guy with the backpack.
He lit up a cigarette as well. I looked at something sticking out of his backpack and thought, "It could not be!" It was a lower shaft of the Tesoro metal detector! As far as I knew there were only three active treasure hunters in Ekaterinburg. What would be the chance of them all gathering in the same train car at the same time?
It was unbelievable! We introduced ourselves. The guy's name was Aleksander. He was going to coin shoot at the old park in the old industrial city some 100 miles away. I was lucky that the train stopped at the moment, so I could take his picture without shaking my camera.
Aleksander Is A Treasure Hunter Too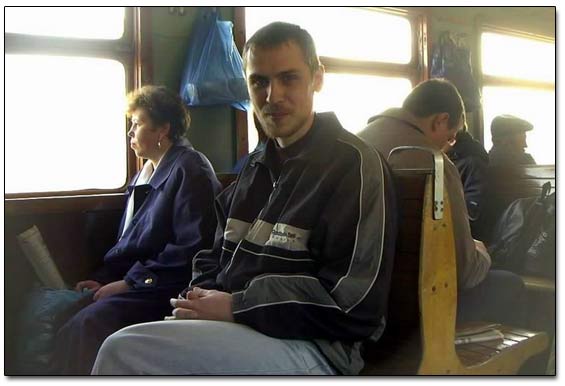 When we arrived to another big city called Nizhniy Tagil, we found out that we had just missed our train which was supposed to take us further North. The next train would leave in five hours. I suggested to my friends to walk to the bus station nearby and catch the next bus leaving for the area we needed to get to.
It was our luck that the bus we needed was leaving in 30 minutes. Though, it was not a bus but a passenger minivan. I did not know who to thank because there was only one passenger riding with us. Our huge backpacks took the rest of the minivan's space.
This ride lasted for three agonizing hours. First, we could not get through one town because a military parade was in full progress on the streets. In another town, our driver took a very long break at a stop. Later he had to stop and look at our map for a while as he could not figure out where to drop us off. Finally we got to the point of our destination, climbed out of the minivan, and felt quite happy being in the middle of nowhere!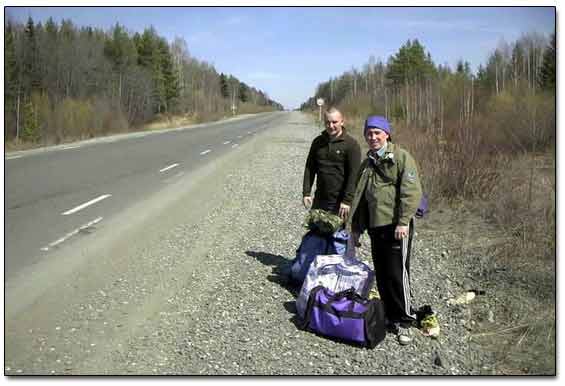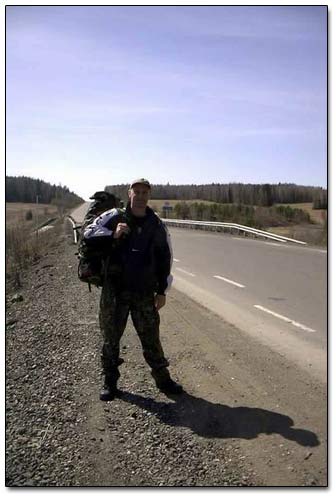 Number of pages: < Previous | 1 | 2 | 3 | 4 | 5 | 6 | 7 | Next >