06 - Wire Denga, Tver' Mint, Tsar Ivan IV Vasiljevich (Ivan The Terrible), circa 1533-1547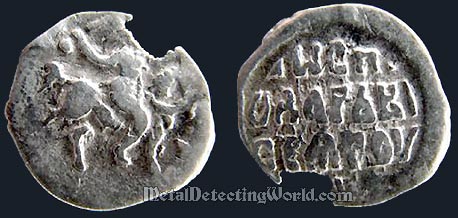 Wire Denga
OBVERSE: Image of a horseman with saber, the horse going on foot.
REVERSE: the 4-line legend engraved in old cyrillic letters reads: ".ωСП. / ОДАРЬ / ВIСЕЯ / РОУСИ" ("Majesty of Entire Russ").
Weight: 0.34 gram
Mint: Tver
Ivan IV, generally known as Ivan the Terrible, was crowned Grand Prince of Moscow in 1533 at age three. In 1547 he declared himself Czar of all Russia, and began centralizing the Russian government and consolidating his power.
The title Czar was derived from the ancient Roman title of Caesar, as Ivan the Terrible saw Russia as a continuation of the ancient Roman Empire. Right after Ivan IV proclaimed himself a Czar in 1547, he immediately ordered to engrave his new title and add a Tsar's crown to the horseman portrait on his coins.
Ivan the Terrible engaged in a reign of terror against anyone he thought might oppose him, torturing and executing many thousands of people, including his own son. Entire cities and regions were left depopulated.
Thus he earned his title "The Terrible." Though he expanded the Russian Empire eastward into Siberia, his attempts to expand into the northern and eastern regions of Europe turned into disastrous fiascoes. Sweden and Poland defeated the Ivan's military which had already been weakened by his purges. Having destroyed the economy of the country and having killed his most promising heir, Czar Ivan IV led Russia into the crisis. "The Time of Troubles" began after his death in 1584.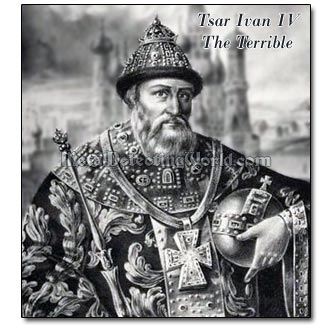 1 | 2 | 3 | 4 | 5 | 6 | 7 | 8 | 9 | 10 | 11 | 12 | 13 | 14 | 15 | 16 | 17 | 18 | 19 | 20 | 21 | 22 | 23 | 24 | 25 | 26 | 27 | 28 | 29 | 30 | 31 | 32 | 33 | 34 | 35 | 36 | 37 | 38 | 39 | 40 | 41 | 42 | 43 | 44 | 45