MPX Digital Reviews, Price and Specifications
All-Purpose Land Metal Detector
Retail Price: $699.95
Number of Reviews: 3
Avg. Rating (3.3 Stars)

Email to a friend.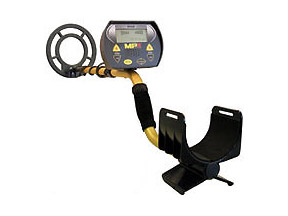 Specifications:
Fully automatic ground tracking and tuning - use on all soil types.
7 Zone Icon Target Identification - Know your find before you dig.
Audio tone Identification system - sound also identifies target.
Sensitivity control - set control from minimum to maximum sensitivity.
Discrimination control - tune out junk while finding only good targets.
Audio Centering Pinpointing feature - accurately centers finds under searchcoil.
Built-in loud audio speaker - let's you hear finds even in noisy areas.
LCD Meter indicates battery condition, depth level, sensitivity indicator and target icons with included Iron/gold/silver range.
3-part handle made of aluminum and abs plastic - for reduced wear.
lower adjustable stem - Easily adjust to users height.
Shaft locking rings - locks shaft after stem adjustments.
Operates on two 9-volt batteries - easy access through Battery compartment door.
Built-in detector stand - Keeps detector off the ground. No dirt, no sand.
Heavy duty coil connector - Less flex and stress on coil wire.
Ultra-deep 10 inch submersible open style search coil - use on land or in shallow waters.
Adjustable shaft - Minimum length 43.5 inches / Maximum Length 53.0 inches
Total weight with batteries: 3.3lbs
1/4" headphone jack
5-Year Limited warranty
MPX Digital Metal Detector
Tom Matteson in Rathdrum, Idaho -

I have tested and used quite a few of the name brand metal detectors. For the price, the MPX Digital detector is very good. It has a couple of flaws; its a little on the heavy side and could have been built a little sturdier but overall the MPX is an excellant beginner to intermediate treasure hunter detector. I have found more items and at deeper depths than many of the other detectors I have used. It is not the best for gold nugget searchs, but does okay. There is not many accessories for the MPX. There is a 8 inch search coil you can upgrade to. I am completely satisfied with the detector and would purchase the MP line again.
May 17, 2012
9 people found Tom Matteson's review helpful.
MPX
Anthony Nikolitch in michigan -

It has to many flaws to pay $300.00, the control box wiggles "making false signals", very heavy, didn't care for it at all, but it did find every little peace of metal... to much, digging for foil, if you ask me, not happy with it. And Kellyco wouldn't help me trade up, bad.
Jul 28, 2011
22 people found Anthony Nikolitch's review helpful.
Almost an Excellent Metal Detector
Dave T in Penn Hills, PA USA -

I have used the MPx for about a year now, and it has its good and bad points. It has excellent detection depth, good discrimination, and is easy to use. It detects targets that my other detector misses. The MPx misses the "excellent" category mainly because the shortcomings of its heavy search coil and "loose" frame construction. The coil tends to move around (lower shaft to mid-shaft) allowing the coil wire to move and generate false "50-cent" signals. The coil is very heavy causing the MPx to be very "nose heavy." This quickly causes arm fatigue. And the arm-rest is also too short compounding the balance problem. There is no "penny or nickel" icon - penneys and nickels report on the "ring" icon. The speaker sound is loud and high-pitched when pinpointing - dogs will love you! I suggest wearing earphones (turn volume down low at first or risk ear damage). The pinpoint button is a membrane switch ... it is sensitive to where you press it and you must look often up to see where your finger is located. I'd prefer a Whites-style trigger switch. Finally, the manual is very brief, inaccurate and basically useless.
Other than these shortcomings, the MPx is an inexpensive, excellent detector. If MP would correct the above flaws, I'd give it a five.
Sep 15, 2010
88 people found Dave T's review helpful.