MP5 Pro Swift Seeker Reviews, Price and Specifications
All-Purpose Land Metal Detector
Retail Price: $599.95
Number of Reviews: 3
Avg. Rating (4.3 Stars)

Email to a friend.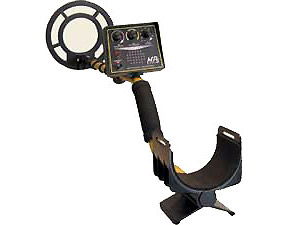 Specifications:
State of the art High Reliable Circuitry
Full Automatic Tuning
Full Automatic Ground Balancing
Full Range VLF Discrimination
Target Response Light for Pinpointing
Volume Control
Detection Depth Control
Low Battery LED Warning
12.5 kHz. VLF operating system
APC Pinpointing
Weight: 2.62 lbs
Easy to Operate
Water Resistant Digital 3 Searchcoil
Operates on two 9 Volt Batters
Tremendous Detector
Greg in Advance, NC USA -

This is one versatile detector and is uncomplicated to use. While many others are looking at viewscreens and many times, getting fooled by their misreadings, this no-nonsense machine allows you to eliminate trash and still find the goodies while using your good 'ole hearing' to be your judge of what's down there. I went over some old spots that seemed like they were 'hunted out' and found some new, deeper (and solid) coin-sized targets. I'll need to go and dig them up to see what they are. But the very fact that they weren't found the first time even with my old Fisher 1260X detector means this machine can quite possibly outperform the Fisher. For the cons, I kind of wish this detector had the smaller 8" coil as standard because the larger coil makes it a little harder to pinpoint coin-size targets. But it DOES have a non-motion all-metal VCO pinpointer on the interface similar to the old BFO detector characteristics. So, in other words, the pitch in the pinpoint mode increases the closer you come to the target and lowers as you move away from it. All-in-all, a great detector.
Jul 30, 2013
24 people found Greg's review helpful.
Awsome Metal Detector
Gene Oleson, jr. in pasadena.california. -

This metal detector is awsome: it will find silver and gold at depths. I've had mine for two weeks and I had nothing but fun with my MP5 Pro!
Apr 25, 2010
12 people found Gene Oleson, jr.'s review helpful.
MP5 Pro
Andy Kerr in Newville,Pa USA -

This is a good machine for coins, has decent discrimination, but very heavy. If you can find one for 100.00, it is worth it, but I would not pay anymore than that. There are a lot of other good used machines in this price range at 1/2 the weight.
Aug 31, 2008
19 people found Andy Kerr's review helpful.