Minelab Excalibur 800 & 1000 Reviews, Price and Specifications
Underwater/Surf/Beach Metal Detector
Retail Price: $1295.95
Number of Reviews: 1
Avg. Rating (5.0 Stars)

Email to a friend.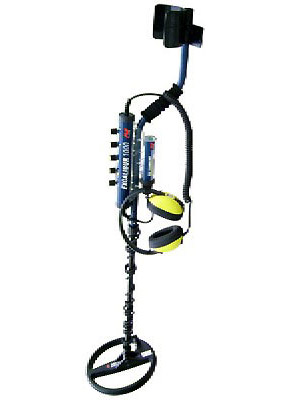 Specifications:
Weight (with 10" Coil): 2.05kg (4.1 lbs)
Configuration: Shaftmount (Optional Hipmount)
Technology: Broad Band Spectrum (BBS)
Transmit Frequency: 17 Frequencies (1.5, 3, 4.5....25.5 kHz)
Ground Rejection: Automatic Ground Compensation
NiCad Battery Pack: 12V, 600 mAh
Mains Charger: 110V (USA), 230V (EU), 240V (AUS)
Headphones: 8 ohms
Dive Shaft: Supplied standard
Detector Stand: Supplied as part of arm rest
Controls: On/Off; Threshold, Sensitivity (Auto or Manual)
Volume, Discriminate, Pin-point/Discriminate
Alkaline Battery Pack: 8 x 1.5V (AA)
Car Charger: 12V, Cigarette lighter plug
2 years Warranty for Electronic Box
1 year Warranty for Coil
Commercial Diver detecting for 2 yrs w/Minelab.
Ted Tarvin in Deptford, NJ -

I first used the Excalibur 1000 in Aruba. Best find was a Gold Stud Link Bracelet. Before Aruba, I used a "Whites" detector while treasure hunting for the 1715 Fleet for six weeks off Florida's East Coast. With the Whites, every hit sounds the same. Along with ferrous metals, from Bottle caps to the bomb fragments, I found a lot of aluminum cans off the coast, which sounded like the Motherload (Most of the time everything sounded the same). With the Minelab's 17 frequencies, the different levels of intensity both in tone and in how quick the tones change, has helped me learn better discrimination (ears alone). I do not discriminate out anything with a rheostat. My focus has been strickly Non-Ferrous hunting. That means, I keep the detector in the "DISC" mode until I hit something that sounds non-ferrous. Once I believe I'm on something non-ferrous, I switch to the "PINPOINT" mode. I sweep left to right, to find where the object is. Then, turn 90 Degrees, and sweep left to right to create a imaginary "X". I then stick my knife at the center, position myself and detector with regards to the current, and start fluffing. The minelab has a feature where the tone may trend up, then immediately drops to a low gutteral tone, telling you "This is Ferrous" metal. I have been able to ignore bottlecaps, steel, screws, etc (Hurricane debris). Since Aluminum is in the same range as Gold, I do not manually discriminate out Aluminum. Instead, the quick spike to a high scrill, most often is a beer tab. I know this because in this range, be it aluminum or not, I dig or fan, always. The tabs, are easily fanned out of the hole... fluttering away with the current. I hold the coil downstream of the hit and fan. If it's a tab it pops with a high quick tone, then goes away. I instantly stop fanning, then look for (if visibility allows) the tab. I pack them away so as not to find them again. Then I resweep the original hole. Coins give a more gradual rise, though most are not as sharp or as high pitched as Aluminum. Copper Pennies are hard to distinquish from Aluminum; and, they too are prevalent. Minelab has been good to me. I found an engagement ring, close to a bridge. I couldn't wait to get back to the bottom, after showing my Girlfriend the ring (She told me the first ring I found was hers). Upon hitting the bottom, I found a large round object, partly sticking out of the mud. I pushed on it, thinking it was a Cannonball. As it rolled over, I saw two finger holes and a thumbhole. My guess was a girl pissed off her lover because he bowled too much. He pissed her off, so she threw the ring in too! LOL! I just recently bought a Garrett, with intentions of trying it for a comparison; however, when I get ready to dive, I just can't bring myself leave the Minelab topside. I haven't used the Garrett yet. I moved up here to the Philly area for work. The more I dive in the Delaware River, the more excited I'm getting. I'm also getting older. These currents are kicking my butt. The Garrett is a hip configuation. I haven't looked into whether I can reconfigure the Minelab, yet... Guess I'll try the Garrett this spring.
Jan 01, 2010
87 people found Ted Tarvin's review helpful.