Nautilus DMC I Reviews, Price and Specifications
All-Purpose Land Metal Detector
Retail Price: $500.00
Number of Reviews: 0
Be the first to review this item
Email to a friend.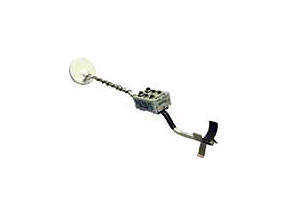 Specifications:
Search modes: Non-motion Discrimination, non-motion Ground balance
Controls: Discrimination, Ground Balance, Discrimination Sensitivity, Ground Balance Sensitivity, and Tuning.
Audio: Discriminate = 950 HZ, Ground Reject (all metal) - 240 HZ
Operating Frequency: 14 KHZ
Power Output: Fixed
Search Heads: 8" Standard, Optional: 6", 10" and 15". Heads are Field interchangeable on same models.
Power Pack: Two (2) 9 volt Transistor Batteries, Optional: Rechargeable Battery System
Physical Configurations: Telescopic Handle in "S" or "U" choice, Grey Enclosure, Padded Headphones.
Weight: 4.3 to 4.5 lbs.
Excellent starting machine. Provides dual tones: one for all metal and one for discriminate. T/R both sides.