Titan 2000xd Reviews, Price and Specifications
All-Purpose Land Metal Detector
List Price: $399.95
Number of Reviews: 3
Avg. Rating (5.0 Stars)

Email to a friend.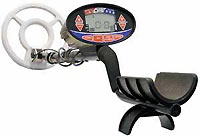 Specifications:
Touchpad Control Buttons
Sensitivity Level Control
Large Target ID/ Depth Reading LCD screen
Disc./All metal (Mode Button)
Discrimination Level Control
Low Battery Warning Indicator
Hi/Low Sensitivity Indicator
ITD (Instant Target Discrimination) Control
Notch Mode Control
4 tone Audio Target ID
9 Zone Programmable Visual Target ID
True Slow Motion All Metal Mode
Automatic Tuning
Automatic Ground balance
Visual Depth Reading 0 to 8 plus inches
Waterproof Spider Searchcoil
1/4 inch headphone jack
Removable battery door
Lightweight and durable construction
Comfortable foam armrest
Comfortable foam hand grip
Fully adjustable lower stem
Built-in detector stand
Weight 2.5 lbs (Includes Battery Weight)
5-year warranty
Good Deal
Lee in weirton wv -

I paid 180.00 for this machine and found coins 9" deep. I cannot complain!
Apr 03, 2011
10 people found Lee's review helpful.
Titan 2000XD
Dave in usa -

The Titan was my first detector. I now have 4 detectors. My latest purchase was a Tesoro V. There is something about the Titan 2000XD that I really like. I have found deep Indian Head pennies with it. People think that Titan 2000XD is a toy machine, I don't buy it. In air test it does better than my Tesoro, call me a liar if you want, doesn't matter. I own both, I thought the Tesoro would be a lot better and it's not. I also have Garrett Ace 250 which I really never liked from the start, I hate that bell tone. I use the Titan more than any detector I have. If the Titan is such a toy and worthless, why do I keep using it?
Jan 24, 2008
42 people found Dave's review helpful.
Awesome Bang for the Buck
James in mooresville, NC USA -

I wanted a great Extra Deep Easy-To-Use metal detector. The Titan 2000 XD is "Spot On" and has a sweet IDT and notch system, it displays the depth and an arrow points to possible target. Remove what metals you do not want to detect, and it works great. I love it. It will surprise you at how well it works for the price. I ordered mine from Kellyco, 1st class service, folks. Great detector! Did I mention that it is feather light?
Dec 28, 2007
42 people found James's review helpful.