Titan 3000xd Reviews, Price and Specifications
All-Purpose Land Metal Detector
List Price: $499.95
Number of Reviews: 1
Avg. Rating (2.0 Stars)

Email to a friend.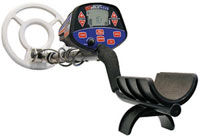 Specifications:
Touchpad control buttons
5 modes of Operation, Super deep (slow motion) All Metal mode, Discrimination mode with Depth reading, Pin-point mode, ITD mode and Notch mode
Sensitivity level control with 6 levels
Large easy view LCD screen
Disc/all metal
Discrimination level control
Low battery warning indicator with 4 levels
ITD (Instant Target ID system)
4 Zone notch adjust control
4-Tone Audio Target ID system
True High Powered slow motion All metal mode
True Variable Coin Depth reading 0 to 10+ inches
High Powered, No-Motion Pin-Point mode
11 Zone Target Identification system
7-segment Target Eliminator feature
Iron Elimination with 3 levels
Ground balance control
1/4 inch headphone jack
Interchangeable Coil System
8 inch Waterproof spider searchcoil
Comfortable foam armrest
Comfortable foam hand grip
Fully adjustable lower stem
Built-in detector stand
Operating Frequency VLF: 6.8 kHz
Operates on Two 9-Volt Batteries
Weighs 2.6 lbs (Includes Battery Weight)
5-year warranty
TITAN 3000
Gary Dolling in USA -

I have nothing but trouble trying to dial this thing in. And I have used it 40-50 times. I spend more time digging for trash than I ever expected. Even my 14k gold ring comes up as a pop top and not shown as gold!
Oct 17, 2012
14 people found Gary Dolling's review helpful.