Bounty Hunter Time Ranger Reviews, Price and Specifications
All-Purpose Land Metal Detector
List Price: $645.95
Number of Reviews: 2
Avg. Rating (5.0 Stars)

Email to a friend.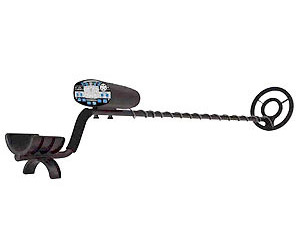 Specifications:
LCD Target ID
LCD Depth
Readout
Deep Target Indicator
Microprocessor Circuitry
Ground Monitor
4-Level Iron Discrimination
Touch pad Selection
Sensitivity Control
Ground Control
Numbered Target Values
Sniff Mode
Blanker System
Low Battery Indicator
3-Tone Target Audio
1/4-Inch Headphone Jack
Weighs 3.5lbs
Uses New and Improved 9-Volt Battery System
Excellent Bargain I Give It 3 and A Half Thumbs Up! !!
Rick the Prospector in Pacific Northwest USA -

This is one well made detector. All of its notch and ID, blanking, Sniff features work much better than I had anticipated. And they are selling this detector for about $160-$180. This unit useD to be almost $700. It IDed a Sakajawea silver dollar when all of my other detectors were calling it a quarter. The Timeranger said it was a dollar! I put a larger 10.5 inch coil on the Timeranger, and I am now hitting targets 3-6 deeper than a standard 8 inch coil. When I was out doing some nugget shooting with it, I picked up a black sand pay streak. I tested the pay streak just to be sure and tested that function 10 different times in all metal mode. It hit several pay streaks every time. I am pretty sure the folks at Bounty Hunter did not intend for this detector to do that. This is a very good detector, and you just have to learn how to use it. The other reviewer does not know how to use a detector or is new to hunting! You just cannot beat this much detecting power at such a great price!!!
Dec 18, 2015
21 people found Rick the Prospector's review helpful.
Slow
Greg in Advance, NC USA -

If you like a metal detector with a slow recovery speed and like to look at a complicated 'busy' screen that can't notch out an aluminum pull tab like the owner's manual claims and don't mind digging them anyway, than this one's for you! When it should have the P-tab notched out, the cursor will almost always point to the nickel on the screen even after you think the pull tab has been notched out, you'll end up digging the aluminum tabs anyway thinking they're nickels. Not anything as accurate as a Fisher F4 in being able to classify a nickel and a pull tab accurately and separately, save for the older steel pull tabs which require higher disc. anyways and are usually misidentified by screen-type detectors as a good target classification and/or VDI number. Battery life is not that great either with the 2 9-volts. You can almost drain two good 9 volts down to fair in just one outing. On the plus side though, it's lightweight and you can swing it for hours without fatigue. It's also well built like most Bounty Hunters prove to be. So the slow recovery time from one target to another, lackluster depth, the hungry battery drain, and the useless 'dummy' 'notch' feature on aluminum P-Tabs compared to a Fisher F4, are the things that turn me off with this machine in my opinion.
Apr 13, 2014
4 people found Greg's review helpful.