Minelab X-Terra 70 Reviews, Price and Specifications
All-Purpose Land/Gold Nugget Metal Detector
Retail Price: $799.95
Number of Reviews: 2
Avg. Rating (5.0 Stars)

Email to a friend.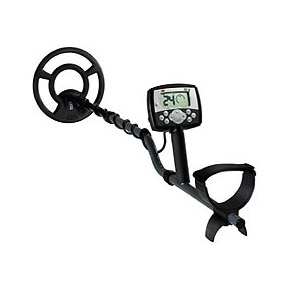 Specifications:
Weight (including batteries): 2.9lbs (1.3kg)
Transmission: VFLEX Single Frequency Sine Wave
Technology: VFLEX
Coil (standard): 9" Concentric - 7.5kHz
Visual display: Positive Reflective LCD
Audio: Internal Speaker and Headphone Output (1/4" Jack)
Search Mode: Motion Detector
Discrimination: Multi Segment Notching (Accept/Reject)
Personal Settings: Customized discrimation patterns
Target identification: Digital numeric display and tone
Batteries: 4xAA Alkaline or NiMH/Ni-Cad Accessory
Padded armrest: 4 position adjustable with stand and armstrap
2 years Warranty for Electronic Box
1 year Warranty for Coil
Minelab X-Terra 70
Doug in Idaho,USA -

I am very happy with the X-70! Being a experienced detectorist, I learned the machine's language very quickly. I would strongly recommend this machine for a beginner to use. My wife had never picked up a detector in her life. With some help from me, she was finding coins in a few minutes. When you learn the targets' sounds and numbers, you are on the road to success. This machine is very light: only about 3 lbs with the stock 9" concentric coil. On batteries, I have found that good quality alkalines work better than rechargeables. People will argue this but I can tell a difference in target response quality. When my indicator shows half charge or less I remove the alkaline batteries and the voltage is about 1.2-1.3 volts. Batteries last me about 20 hours. On coils, the large and small concentrics are easier to pinpoint with. The 6" concentric medium frequency coil is very good in high trash areas. The 9"x5" elliptical high frequency coil works well on coins as well as Gold nugget hunting. The X-Terra 70 will easily find most coins down to 6" deep. I have owned the X-Terra for four months and logged over 100 hours of metal detecting. I found over 2000 clad coins. Also some silver coins, sterling rings, and sterling earrings. Of course, one usually finds a small box full of lesser value but still cool stuff as well. Find an experienced detectorist to help you and give the X-Terra 70 a try.
Dec 03, 2008
31 people found Doug's review helpful.
Great Detector!
Mike A in Northeast US -

I bought mine about a year and a half ago, and could not be happier with my choice! Great discrimination, very lightweight, and all digital! Unlike some models out there, this detector has discrimination, which seems to be very accurate. As far as ease of use, I was doing pretty good right out of the box! This was my first metal detector, and even for a rookie, it does not seem to be overly complicated. I would highly recommend this detector, and have been very happy with it thus far.
Jun 13, 2008
35 people found Mike A's review helpful.