Bounty Hunter Junior Reviews, Price and Specifications
All-Purpose Land Metal Detector
List Price: $100.00
Number of Reviews: 1
Avg. Rating (5.0 Stars)

Email to a friend.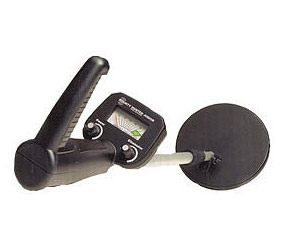 Specifications:
Lightweight, ergonomic design
Sensitivity control for Maximum depth detection
Proportional audio-speaker volume varies with target depth
Discrimination control will eliminate iron and most unwanted items
6.5 inch weather resistant coil
Detects coin-size objects up to 5" deep: larger objects up to two feet
Speaker sound increases as target gets closer
Works very well. Fast recovery speed and pretty deep
Tom in Sweden -

I got 3 units for all of my kids. It is working perfect without any chattering or false signals. It is really fast and easy to pick out the good targets in trash. It even gives you a good idea how deep the target is. Finds small coins at 4" and big at 5-6". And the batteries last a long time. I love it.
Mar 04, 2014
9 people found Tom's review helpful.