Bounty Hunter Quick Draw II Reviews, Price and Specifications
All-Purpose Land Metal Detector
Retail Price: $279.95
Number of Reviews: 3
Avg. Rating (4.0 Stars)

Email to a friend.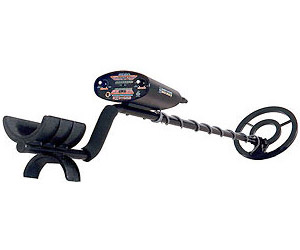 Specifications:
Coin Depth Detection: 8"
Large Object Detection: 3 feet
Low Battery Indicator
Tone Target Discrimination: 3 Tone
Digital Target Identification
Number of Target Segments: 9
Depth Indication
Auto Notch System
Variable Notch System
Ground Balance System: Auto
Coil Size and Type: 8" Open
8" Waterproof, Interchangeable coil
Fully Automatic Ground Trac
Sensitivity Control
Notch and Auto Notch Modes
Digital coin-depth indicator
3-level iron discrimination
Touch pad selection
3-tone audio discrimination
Hadphone jack with 1/4" plug
Requires Two 9-volt Alkaline batteries
5-year Limited Warranty
Good Learning Metal Detector
John in Las Cruces, NM -

This detector is good for begininers. It lacks a pinpoint mode, but if you discriminate or lift the coil while detecting, you quickly learn to find targets. It has the depth of a White's Prism and is great for coin hunting. It's good to 8" on coins, and 3 feet on large targets. This machine is very sesnitive, notch mode provides best results.
Jan 12, 2011
16 people found John's review helpful.
Quick Draw II - Great Fun!
Jon in MI USA -

I just started detecting yesterday. I was reading about detecting and got an itch to give it a try. I picked up the Quikdraw 2 from a local pawn store for $100. Even being used, this machine performed great. I found a silver quarter rosie and mercury as well as a war nickle. Many many other modern coins also, all in my back yard. This is great for anyone wanting to try out the hobby with out spending alot first. I didnt give five stars because I am sure there are better models out there, but for the price the Quick Draw performed very well.
Jun 18, 2009
22 people found Jon's review helpful.
Excellent Machine for the Money
Charles Dawson in New Orleans LA -

For me, being a newbie to the hobby, the Quick Draw is a great machine to learn on. It is well balanced and easy to "swing," with excellent pinpointing of targets. It identified most targets at various depths: a dime at 2" or quarter at 4". Its notch discrimination is also excellent in eliminating pulltabs and trash. Some of my finds are 1812 musketball, silver braclet, silver coins and loads of clad. All were found in my front yard. If you are just starting out or need a backup machine I highly reccomend the Quik Draw.
Jan 23, 2009
36 people found Charles Dawson's review helpful.