Bounty Hunter Land Ranger Reviews, Price and Specifications
All-Purpose Land Metal Detector
Retail Price $549.95
Number of Reviews: 1
Avg. Rating (5.0 Stars)

Email to a friend.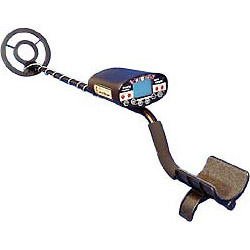 Specifications:
Weight: 3.5 lbs
Operating Frequency (kHz): 6.6
Digital LCD Readout
Low Battery Indicator (LCD)
All Metal No-Motion (Auto Ground)
Motion Discrimination (Auto Ground)
3-Tone Target ID
1/4" Headphone Jack
Internal Speaker System
Search Coil Size: 8" Open-Face
Waterproof Coil System
Requires Two C-Cell Alkaline Batteries
S-Rod Handle System
Adjustable Aluminum Stem
Requires Two 9-Volt Alkaline Batteries
Limited 5-Year Warranty
Good
Armadillo Detective in Oklahoma -

This machine is ok at discriminating out nails, staples, and other random chuncks of iron found at old homesteads up to 4"(pieces of farm equipment etc.). Overall, If the target is badly oxidized or over 4 inches deep, this detector has trouble identifying the target and will read out a non-repeating ID. I usually detect with the iron discrimination on and rarely dig up rusty iron. Sheet metal is hard to deal with, as it shows up the same on the ID as many treasures do. The detector is calibrated for the U.S. coins and is accurate at detecting them. Before I got used to the ID readout, I would constantly dig up very old pieces of iron 10" inches deep or so thinking it was a coin. If it's not a repeating ID, and the target is deeper than 4 inches, it's probably junk iron. Nevertheless, this detector finds coin sized metals 10"+ on high sensitivity settings, and so far I have not gone home empty handed.
Jan 18, 2009
17 people found Armadillo Detective's review helpful.