Minelab X-Terra 50 Reviews, Price and Specifications
All-Purpose Land Metal Detector
Retail Price: $649.95
Number of Reviews: 2
Avg. Rating (3.5 Stars)

Email to a friend.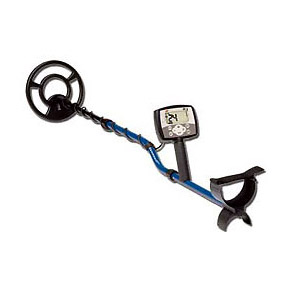 Specifications:
High precision 7.5kHz VFLEX technology
Micro-controlled, ultra sensitive waterproof concentric coil
Digital numeric target ID
Large, easy to ready LCD
Depth and battery level indicators
Fast recovery Pin-Point with variable tone and graphical indicator
Weight (including batteries): 2.9lbs (1.3kg)
Transmission: VFLEX Single Frequency Sine Wave
Coil (standard): 9" Concentric - 7.5kHz
Visual display: Positive Reflective LCD
Audio: Internal Speaker and Headphone Output
Search Mode: Motion Detector
Discrimination: Multi Segment Notching (Accept/Reject)
Personal Settings: Customized discrimation patterns
Target identification: Digital numeric display and tone
Batteries: 4xAA Alkaline or NiMH/Ni-Cad Accessory
Padded armrest: 4 position adjustable with stand and armstrap
2 years Warranty for Electronic Box
1 year Warranty for Coil
Hot Machine.
Lilsin in oroville,ca.usa -

This detector finds coins as good as other detectors I hunted with. I changed the standard search coil to 5x10 "double d" to find very small items. This is a 2 frequency detector: standard coil is a 7.5 khz, the double "d" coil is 18.75 khz. This detector pinpoints very good and is great for gold.
Apr 20, 2010
9 people found Lilsin's review helpful.
Not Worth the Money
Got the bug in San Diego.Ca -

Looking for mid/level detector? Would not recommend this one. Entry level Bounty Hunter will out preform this one all day. Useless at beach. Delayed signal more than not. Has to be sent to Aussie's for issues, no tech department in Nevada anymore. I'm very disappointed. Stay with the Americans and thier machines.
Mar 10, 2010
4 people found Got the bug's review helpful.