Bounty Hunter Camo-LS Reviews, Price and Specifications
All-Purpose Land Metal Detector
Retail Price: $449.95
Number of Reviews: 2
Avg. Rating (4.5 Stars)

Email to a friend.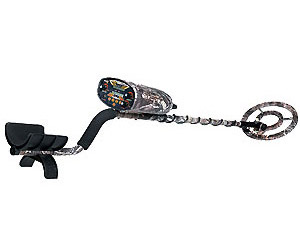 Specifications:
Coin Depth Detection: 10"
Large Object Detection: 5 feet
Tone Target Discrimination: 3 Tone
Depth Indication
Auto Notch System
Variable Notch System
Ground Balance System: Auto and Manual
Coil Size and Type: 8" Open
Ground Track (automatic ground balancing)
Manual ground balance
4-level Iron Discrimination
Digital Coin-Depth Indicator
Touch Pad Selection
3-Tone Audio Discrimination
Notch Mode (to manually "notch-out" a specific range of items)
Auto-notch (for automatic elimination of common targets)
No-Motion Mode
8" Waterproof search coil
5-year Limited Warranty
One of the Best for the Price
Anthony Williams in Illinois -

I have to say that I started with a Loan Star. It's a very nice Metal Detector. It's deep and can discriminate well but I took it back for the Camo LS - this thing will find anything in the ground! I've tried a lot of metal detectors in the 200$ - 400$ price range and fell in love with Garrett 350 Ace. Garrett has its work cut out on this product. A solid tone is the way to go. Garrett 350 Ace has everything you need to professionally hunt for whatever. It's made in America. I am truly in love.
Aug 26, 2012
1 people found Anthony Williams's review helpful.
Great For the Money
Bounty Killing in usa -

I've seen this detector go head to head against a more expensive White's detector and come out on top. This machine has never let me down.
May 28, 2012
6 people found Bounty Killing 's review helpful.