Bounty Hunter Tracker IV Reviews, Price and Specifications
All-Purpose Land Metal Detector
Retail Price $159.95
Number of Reviews: 4
Avg. Rating (4.5 Stars)

Email to a friend.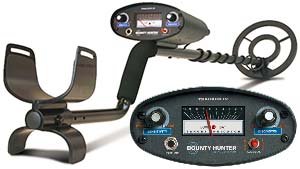 Specifications:
Coin Depth Detection: 8"
Large Object Detection: 3 feet
Low Battery Indicator
Tone Target Discrimination: 2 Tone
Intensity Meter System
Ground Balance System: Auto
Coil Size and Type: 8" Open
8" Waterproof, Interchangeable coil
Dual Tone Discriminate
3 Operating Modes: Motion All-Metal, Full Discrimination, Tone Discrimination
Sensitivity Meter
Built-in Speaker
Headphone Jack
Sensitivity Adjustment
Dscriminate Adjustment
5-year Limited Warranty
Brilliant machine
Robert Joyce in Inverness. -

This detector is the business, brilliant machine and very powerful, competes with the big boys easy. Bounty Hunter have really got to grips with the detector market with this, so cheap to buy, I got mine for £90.00 second hand three years ago, and I have been offered £150.00 from my mate as he knows how good it is. It is a deep seeker and picks up even tiny targetes, i.e. thin hammies. I can't say enough about this detector.
Nov 19, 2012
5 people found Robert Joyce's review helpful.
Value for Money
Tim Bridson in Australia -

The Tracker IV is fantastic in mineralised country and easy to use. Light, easy on batteries, this detector provides the sort of performance I'd seen in something far more expensive. Coins and relics are my thing and this machine doesn't disappoint. Like in using all detectors, practice makes a difference. I perfected my moving coil style of detection by a little adjustment to my technique. Definitely get headphones if you are serious. Great work by Bounty Hunter.
Aug 28, 2009
25 people found Tim Bridson's review helpful.
Superb Beginner Tool
Indiana Hoosier in Indiana USA -

I own two of these. I am on a husband and wife team, and enjoy using these. Things became more exciting as we learn and highly recommend purchasing head phones to be used with this model.
Feb 21, 2009
13 people found Indiana Hoosier's review helpful.
A Father's Gift
Ron Prent in Hesperia Michigan -

I started without headphones. Because of road noise, I was missing coins. I also was digging a lot of holes. This machine do not tell what is in the ground or how deep. This being a gift, I am still learning - I have read the user's manual about 5 times. But I have already found $32.00 in coins and a Tiffany silver pendant. So far I have only found 2 silver coins.
Aug 20, 2008
32 people found Ron Prent's review helpful.