Bounty Hunter Land Star Metal Detector Reviews, Price and Specifications
All-Purpose Land Metal Detector
Retail Price $449.95
Number of Reviews: 1
Avg. Rating (3.0 Stars)

Email to a friend.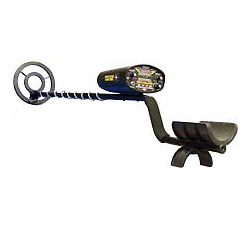 Specifications:
Detector Type: VLF
Detector Uses: Coin Shooting and Relic Hunting
Retune: Auto
Sensitivity: Adjustable
Threshold: Factory Preset
Motion or No Motion All Metal Modes
Full Range Notch Discrimination
Ground Balance: Auto / Manual
Ground Trac Retune
Hi Frequency: 6.6
Search Coil Size: 8"
Search Coil Shape: Round
Search Coil Wiring: Concentric
Weight: 3.5 lbs
Decent Beginner Model
Greg in Ephrata, Pennsylvania -

I bought my Land Star as my first detector. I was satisfied with it for what it was...a good beginner machine to figure out, if I wanted to continue in the hobby. I used the detector first at Ocean City, metal detecting on the beach while on vacation. I set it to basically find only coins, as the area I was in had been searched pretty hard. The machine worked great. I had no problems other than the occasional buried soda/beer can that would give me a reading of a quarter at 6 inches deep. Once I dug a dozen or so of them, I began to recognize the combination of depth and sound. At home (Altoona, PA), I used my detector in backyards, playgrounds, schools etc. It did a fine job there as well, once again I learnt the junk depth/sound combinations after digging aluminum siding, etc. The auto notch mode is what I did 95% of my searching with. The detector does go through 9V batteries pretty quickly when not using the headphones. It uses two 9v's, which can be kind of expensive. Headphone usage cuts down on the frequency of changing batteries. On the downside, swinging this baby for an extended period of time will make your one arm look like Popeye's, and your other like Olive Oyl's. I didn't think it was heavy until I got my Tesoro Cibola. What a difference! One thing that happens now with it is that about every fifth or sixth swing I now get a false chirp. It is almost five years old, so I think it has paid its dues. Not a big deal, but noteworthy none the less. Overall I gave it three stars only because now compared to a better machine I know the difference, but as a beginner machine I would rate it a 4.5 star machine!
Jul 08, 2008
37 people found Greg's review helpful.