Garrett Sea Hunter Mark II Reviews, Price and Specifications
Underwater Pulse Induction (PI) Metal Detector
Retail Price: $749.95
Number of Reviews: 5
Avg. Rating (4.6 Stars)

Email to a friend.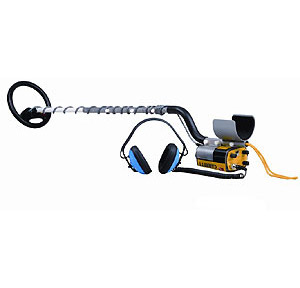 Specifications:
All Metal Deepseeking Mode
Discrimination: Full Range (PI)
Submersible Headphones
Hip Mount Control Box
Microprocessor Controlled
Salt Elimination Mode (PI)
Length: 28" to 52" - Adjustable
Batteries: 8 AA
Multiple Frequency Technology
Operating Depth to 200 feet
Independently sealed battery compartment
Choice of four housing mount configurations
Search Modes: Non Motion All Metal, Standard PI Discrimination, Discrete PI Discriminate
Weight: 5.7 lbs. (2.6 kg)
"Ferous-Non Ferous" Indicator Would Make This Machine Superb!
Stephen in Corfu Island in Greece -

I'm using this detector for 4 years, mainly for wet and dry sand beach hunting during winters. Never underwater. Many great finds. However, as this is a PI detector, the "iron problem" may be solved if a meter "ferous-non ferous" is added by Garrett to this GREAT detector. You guys from Garrett try to remember this. You may name this small and easy addition "Sea Hunter Mark III".
Sep 08, 2011
13 people found Stephen's review helpful.
Time Flies
Bill Heyman in Santa Monica & the Valley -

Wow, last time here was August 2009... I had the Mark II recalibrated for me as it took a beating last year. I went out to the Santa Monica pier and also Venice Beach and had a ball. After the first BIG RAIN and wave action, there must have been a good 60 or more beachcombers with land based detects, so me and my neoprene waders from cabellos and tire treaded sandles over the pads. Well, it was cold and windy, but I was warm as a pig in the barn. $11.25 just in quarters, and no B.S. $6.80 in dimes, Nickles hold your horses $7.85 and pennies. Forget the clad junk I put in a big jar, that's it... never count them anymore.
Now I use the setting just below #2 and on discrete. In the water, it seems to do just fine on 2.
A HINT for the COIL is to keep it from floating as it does at times. I use a tube sock filled with dry sand. I tie it to the end with plastic zip-ties, the long ones - so far so good!
White gold ring could be well worth being in knee high water, cold or warm. Well, take care all and have a Great Beachcombing year! And a BIG thanks to Brad and the Gang at Garretts in Texas!
Feb 24, 2010
18 people found Bill Heyman's review helpful.
Slip and Slide
Bill H. in L.A., Santa Monica, Burbank & the Valley in Santa Monica, L.A. Valley -

Slip & Slide Update
Time do fly when your having fun!!!! Have been out with my fellow beach buddies, Vivian, Brad & Gary. We like to beachcomb. Now I read Doug's review he posted on June 27th and I cannot understand what went wrong with his H2. We had a nice five weeks using our own H2. My buddy Brad has the older H2 which has NO discrete elim and he was doing quite nicely on the beach and in the water. Now, yes, bobby pins will give you a good signal, so will Gold and Silver chains, rings etc. At least this IS what we have experienced with our H2's. My buddies and I like to head into the water, waist deep, and do pick up a few rings, and, yes, junk earrings, ankle bracelets, a church key, Bud the king of beers, and other items, even cell phones. Seems some folks think a ziplock baggie is safe for their phones, keyless car locks etc. The OLD hint to put a magnet in your scoop IS a good one. Now, yes, Junk abounds at a beach, pop tops, bottle caps, trashed batteries, bobby pins, etc. Although it can be a PAIN in the rear at times, yet when one finds a 1948 copper wheat penny at 14+ inches deep at low tide, with the smaller coil (not the 10" x 14" coil at that), well, I have to say GREAT!!! And a liberty dime at 7"+ deep in dry sand, a good 200 feet from shore. It keeps me on my toes for more. The best part IS that the H2 is a do-all, for the land, sand, ocean or fresh water detecting ! No we did NOT find any BIG ticket items like a 12KT diamond ring etc, but let me just state, we have had a nice run from Venice beach all the way up to Malibu Surfrider Beach for 5 weeks. People lose things from small pierced earrings to Ipods. Getting to KNOW one's detector, such as the H2, can be a Problem due to what some call the one tone only, yet I can just about tell 70% of the time what is going to be in my sand scoop! Brad, the youngest of our group, tells me it's due to my age & ears. Brad the wise one speaks. Well, we wish you All a very good summer and to find the BIG one with your H2! Until the next time, stay hydrated and do not forget your sun block.
Aug 24, 2009
20 people found Bill H. in L.A., Santa Monica, Burbank & the Valley's review helpful.
Santa Monica Dream P.I.
Bill Heyman in San fernando Valley, Ca USA -

I got the new Hunter2 and finally had the chance to hit the beach by the pier here in sun fun California. On May 2nd 2009, yes yesterday, took the wife along, windy and a little cold, so I only had time to get a little used to the tones I find in trash elimination and tone. I can get good results at elimination 4+ and tone 3+. I recovered a ring ( costume jewelery ) at 14 inches, so this baby is HOT! I also got a studded earring at a good 7/8 inches, and the tip of a ballpoint pen at a good 7 inches NO B.S. I will be going to the L.A. parks on Tuesday and test her out, as well as at the soccer fields around here in the valley. Good Hunting to all and God Bless!
May 03, 2009
18 people found Bill Heyman's review helpful.
Garrett Sea Hunter
Phil Newman in weston super mare UK -

I just bought this detector from Regton in Birmingham, UK. So far the detector has produced some excellent results on our local Beach ( Weston super Mare). The downside: this detector does like nails and screws from the now burnt down pier. On the plus - lots of spendable coinage and the odd Victorian coin have been found. Cannot wait for the winter storms to really stir up the beach, then this machine will indeed come into its own!
Aug 18, 2008
66 people found Phil Newman's review helpful.