Garrett GTAx 550 Reviews, Price and Specifications
All-Purpose Land Metal Detector
Retail Price: $499.95
Number of Reviews: 3
Avg. Rating (4.7 Stars)

Email to a friend.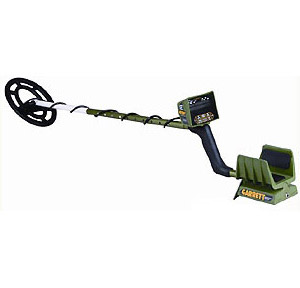 Specifications:
Single Frequency Operation - 7.0 kHz
Discrimination: GTA Accept / Reject Notch
Graphic Target Analyzer (GTA )
Target ID Cursor
Headphone Jack
Hip Mount Battery Pack
Last Mode Switching
LCD, Shows Target ID and Settings
Pinpointing, Coin Depth Measurement
Length: 40" to 51" - Adjustable
8 AA battery operation
Weight: 3.9 lbs. (1.8 kgs.)
2 year warranty
The Base Model
Brian in Baltimore, MD -

I picked it up years ago, and it has all the performance features of the higher end models in the series, only lacking unneeded bells and whistles that also add price.
It's a Garrett, so it's well made, balanced and very user friendly, and its performance is excellent. It sounds off clearly, rarely falses, and its ID is usually right. Its performance on nickels is as good as other coins.
This particular detector is well conceived and executed, and is an excellent choice for a beginner, who knows they want to learn the hobby, wants ease of use, but does not want to purchase a toy he will quickly outgrow, This detector has the power and features to grow with you.
You might buy other detectors as the years pass, but I doubt you will trade in this one.


Apr 15, 2013
5 people found Brian's review helpful.
Good but slightly irritating Garrett
Jim in Suffolk, England -

Balanced and ergonomic, the GTAx 550 feels perfect. Designed to be swept quite fast this is a deep machine. Discrimination is done by removing notches on the digital display but these progressively remove depth so it's best to use a minimum and visually check targets. A bit like the Explorer, which has a similar system, the Garrett does more than its fair share of pointless bleeping. On a deep target the ID can be wildly inaccurate and this is my main quibble with the detector. The pinpoint button and depth scale are surprisingly useful.
Jul 07, 2008
19 people found Jim's review helpful.
Maximizing Every Opportunity
Lester in Raleigh, North Carolina USA -

The ease of use of this detector is amazing after thirty plus years in this hobby using several other detectors. The detector has the built-in capabilities to make it the best marriage between a sound metal detecting technique and technology. The imaging feature and on-board computer features enhance the stability and depth potential over comparable models. This machine has all the features that anyone could possibly
hope for, and I truly believe, and have proven in the field,that this Garrett model truly maximizes every opportunity wherever it is used in the field. I traded up to this model from a GTA 1000 Power Master.
Jun 17, 2008
18 people found Lester's review helpful.