Garrett Treasure Ace 300 Reviews, Price and Specifications
All-Purpose Land Metal Detector
Retail Price: $299.95
Number of Reviews: 2
Avg. Rating (5.0 Stars)

Email to a friend.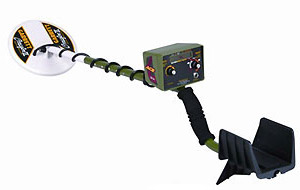 Specifications:
Microprocessor Controlled Operating System
Surface Mount Technology
Two Knob Operation
Detector On/Off
Automatic Battery Check
Adjustable Sensitivity/Depth
Automatic Ground Balance
Full Range Discrimination
Sharp Audio Target Response
Treasure Eye - Slow Motion LCD Pinpointing
Visual LCD Target ID
Preset Audio Threshold
Silent Search
Automatic Retuning
8" Crossfire Search coil
Optional Interchangeable Search coils
2 9v Batteries
Stereo Headphone Jack
Operating Weight: 2 lb., 10 oz
2 Year Warranty
Clean Green Machine
Brian in grait britain -

Picked this detector for 75 pounds. Great fun using it. Not a deep seeker but finds coins.
Nov 12, 2017
0 people found Brian's review helpful.
Good One
Jeff in port neches texas -

I like my 300! I also have the new Ace 250, and the Ace 100. I have not got used to Ace 250 yet. I have already found several old coins with the Ace 300!
Apr 08, 2008
43 people found Jeff's review helpful.