Minelab GPZ 7000 Reviews, Price and Specifications
Gold Nugget Hunting Metal Detector
Retail Price: €10,860.00 ($12,499.00)
Number of Reviews: 2
Avg. Rating (2.5 Stars)

Email to a friend.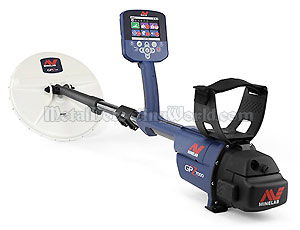 Specifications:
Technology: Zero Voltage Transmission (ZVT)
Frequency/Transmission: ZVT
Coil (standard): 14" x 13" Super DD Configuration with coil cover (waterproof to 1 m (3 ft))
Optional Search Coils: None
Audio Output: 6.3 mm (1/4-inch) non waterproof socket, Wi Stream wireless signal transmission
Headphones Supplied: KOSS UR 30 100 ohm with 6.3 mm plug (1/4-inch) (non waterproof)
Wireless Headphone Operation: WM 12 Wireless Module gives the choice of using the supplied headphones, or your favorite headphones with it.
In-Built Speaker
Visual Display: Full colour LCD (320 x 240 pixels)
Backlight: Yes
USB Connectivity: USB interface for XChange 2 PC software
Memory: Yes
Detecting Modes: Gold Mode (High Yield, General, Extra Deep), Ground Type (Normal, Difficult, Severe)
Discrimination: All Metal
Audio tone: 1-100
Ground Balance: Auto and Manual (Quick Trak trigger button)
Autotune Mode: Preset Slow Motion
Sensitivity Adjust: Level (1-20)
Tune / Noise Cancel: Auto and Manual (256 channels)
Threshold: Level (1-50), Pitch (1-100)
Audio Boost: No
Pinpoint Mode: No
Target Volume Adjust: Range (1-20), Limit (1-20)
Battery : Li-Ion Rechargeable Pack (7.2V DC, 72Wh)
Battery Life: 8 hours
Low battery alert: Yes
Built-in GPS
Length Collapsed: 117 cm (46.1 inches) Laid flat, packed position: 130.4 cm (51.3 inches)
Extended: 152.6 cm (60.1 inches) Laid flat, packed position: 165.1 cm (65.0 inches)
Weight: 3.32 kg (7.32 lb) (Including GPZ 14 coil, coil cover and 72Wh battery)
Hip Mount or Body Mount: No
Warranty: 3 years Control Box and Search Coil
Waste of Money
Sam Smith in Australia -

With this detector, I miss many targets which Garrett ATX easily picks up. Disappointment. Such a waste of money...
Dec 04, 2015
3 people found Sam Smith's review helpful.
GPZ in NQ OZ
Vic Wright in NQ Australia -

The GPZ is as close as we have to a gold magnet, got into the Electronic Gold Rush back in 79, have seen the VLF progression to the PIs. Now ZVT is doing to the PIs what they did to the VLFs.
The GPZ is a heavy machine, have found the Hipstick a must. I started out prospecting in areas the GPX 5000 had done well. Within 5 minutes of starting the GPZ, it had recovered its first nugget, only small 0.8 gram but at depth and thoroughly gone over before. GPZ was set in default, and GB instructions followed.
That first piece was the beginning. The depth of the GPZ has no equals, the sensitivity down to 0.12 of a gram, amazing for a 14" coil.
Minelab have incorporated refinements to this machine right down to the stem and bungees easy length adjustment.
The con other than the weight, the GPS data is only available through Minelabs Xchange2, for the prospector this is a total waste of the GPSs function. To access data through Xchange 2 requires internet connection and then a limited version of Google Earth. I would give the GPZ 5 stars except for this.
Jun 08, 2015
9 people found Vic Wright's review helpful.