Whites Bullseye TRX Pinpointer Reviews, Price and Specifications
Hand-held Electronic Pinpointer
Retail price $159.95 (€120.00)
Number of Reviews: 1
Avg. Rating (3.0 Stars)

Email to a friend.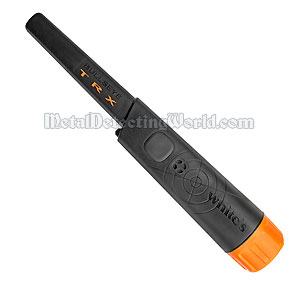 Specifications:
Simple, One Button Operation
Tracking, Auto Ground Balance
Target Ratcheting locates items fast
Operating Frequency: 12 kHz
Audio and/or Vibrate Alert
Rugged, Weatherproof Design
Lost Pinpointer Alarm
Easy-see Orange Battery Cap
Automatic Power Off
LED Light
Overload Indicator
Holster Included (up to 3" belt)
Lanyard Loop: TRX and Holster
Ruler with Inch Markings
Replaceable Shell
2-AA batteries included. Opt. 1-9V
Length: 10 inches
Weighs: 6.5 ounces
Warranty: Full, Two Years
Not a Replacement for a Garrett ProPointer
David in New Jersey, USA -

After I lost my Garrett ProPointer pinpointer which I had used for a few years, I decided to try something new on the market, and purchased this Bullseye pinpointer, and I did not like it. Ok, an orange battery cap and lanyard loops (unless you don't know the "golden rule": put the pinpointer back into its holster, not on the ground, after each pinpointing procedure during target recovery) are fine, but other fancy features such as Ruler with inch markings, a lost pinpointer alarm, an overload indicator and target ratcheting are unnecessary. Right away, I missed my Garrett pinpointer for its simplicity (one button) and practicality. I missed its sifting blade to scrape the soil during target recovery - a very useful feature!
What I did not like about the Bullseye pinpointer the most was its detecting range for coins - up to 3 inches! It is too much! And what for? A pinpointer's simple purpose is to determine an exact location of a coin in a hole or a dirt pile. Everything else is done by a metal detector!
When there were more than one target in the hole, I had trouble figuring out which target I was initially looking for. I had to enlarge the holes in order to recover the targets that were positioned deep in their walls and, nevertheless, indicated by the Bullseye pinpointer. This was a waste of time for me, so I'm going to donate this pinpointer to the metal detecting club as a token prize at club hunt. And I'm getting the old good Garrett ProPointer which had never failed me. Not to lose it again, I will follow the "golden rule" and, just in case, wrap an orange tape around the pinpointer's handle.
Jun 20, 2014