Minelab SDC 2300 Reviews, Price and Specifications
Pulse Induction (PI) Gold Prospecting Metal Detector
Retail Price: $4,875.00
Number of Reviews: 2
Avg. Rating (4.0 Stars)

Email to a friend.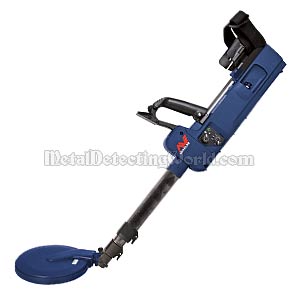 Specifications:
Operating Principle: Pulse Induction
Compact: 16 inch (40.64cm)
Waterproof: 10ft (3m)
Rugged and assembly free
Search coil size: 8 inches Round Monoloop
High performance Multi Period Fast (MPF) technology
Audio and Visual Target Response
Audio Output: Built-in speaker. Koss 100 Ohm headphones
Ground Balance: Automatic Ground Tracking (AGT), Fast Ground Balance
Noise Cancel: Automatic scanning, Noise Cancel button
Sensitivity: 8 step position adjustment
Threshold: 9 audio levels
Low battery warning: 1 LED
Intuitive icon user interface
Batteries: C – Cell Cell 4 x 1.5V Alkaline (supplied), 1.2V NiMH, 1.2V Ni-Cad
Operating Temperature Range: 0°C to 50°C (32°F to 122°F)
Weight: 2.4kg (5.3lbs) - without Batteries and Headphones
Warranty: 3 Years
SDC 2300
Vic Wright in NQ Australia -

This is a switch on and go detector for gold prospecting, making it an ideal first detector for the beginner. It handles mineralised ground with ease and on shallow ground picks up the smallest of pieces, smaller then other PIs. Compact and folds up - ideal for backpacking into out of way areas. It is an ideal companion to the GPZ 7000, allowing you to work tight ground that requires a smaller coil, ie around rocks.
Sep 24, 2016
1 people found Vic Wright's review helpful.
As Expected
Kyle in redding ca -

All I can say is that it works no better than a GP4000 with an 8-inch coil. Also it's about 2000.00 overpriced.
Jul 30, 2014
12 people found Kyle's review helpful.