Garrett GTP 1350 Reviews, Price and Specifications
All-Purpose Land Metal Detector
Retail Price: $699.95
Number of Reviews: 1
Avg. Rating (5.0 Stars)

Email to a friend.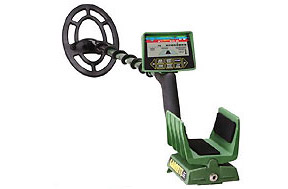 Specifications:
Single Frequency Operation - 7.2 kHz
Graphic Target Analyzing (GTA) Discrimination
Frequency Domain Analysis (advanced filtering technology)
Automatic Ground Tracking, ScanTrak (adjusts to use's scanning speed)
Powermaster (20% greater depth)
Salt Elimination and Coin Depth Measurement
Audio Tone ID
Coin Alert Belltone Audio
Digital Signal Processor (DSP)
Discrimination: GTA Accept / Reject Notch
Graphic Target Analyzer (GTA), Target ID Cursor
Ground Balance, Automatic Ground Tracking
Headphone Jack
Hip Mount Battery Pack
Last Mode Switching
LCD Backlit, Shows Target ID and Settings
Profiling (Target Size)
Length: 40" to 51" - Adjustable
8 AA battery operation
Weight: 4.0 lbs. (1.9 kgs.)
2 year warranty
Good Detector, Good Price
DrDanO in Spring Texas USA -

I've been using various metal detectors for about 15 years, bought the Garrett 1350 just about a month ago. Cost right at $600 including tax. So I guess this is a mid-price range detector. Before purchasing the 1350, I looked at and handled Bounty Hunters, Whites, Fisher, and other models of Garrett. My price point was in the 500 to 800 range. The 1350 was inside that range nicely and I found that it has all the technology that I was looking for, which included the salt elimination, frequency adjustment, variable tone and various volume settings, identification for coins, size and depth visuals, good depth on small objects, customizable search settings, notching, and so on - all the bells and whistles I've seen on the $800 to $1100 machines. Like any of the better detectors, it takes some time to get used to it and learn how to use all the functions to get the most out of it. I have had limited outings with it so far, but found coins where I am sure others have searched before. I keep it in a hard case in the back of my SUV, and when I can, I'll stop at a likely spot even if I only have 30 minutes to search. One such stop was as I passed High Island beach on the coast of Texas, close to Galveston. I was very pleased with the 1350's performance in that short period of time and on wet salty sand. I set the salt elimination on, and in the time I was there, I found a knife (in just awful condition), some odd looking coins that I think were from a Marti Gras celebration, as well as two 1950's dimes and 3 pennys at about 6 to 7 inches that had tiny barnicles on them. Not a king's ransom, but fun and instructive on how well this machine handles salty wet sand beaches. I grow in my positive feeling about the 1350 every time I get to use it for any length of time. Here is a really good tip: save enough money to get a handheld pin pointer - one that vibrates when it is on or close to your target. It really speeds up finding small coins and such. Would I like to have the White DFX at $1000 to $1200? Probably, but I'm not convinced that it is worth twice what I paid for the 1350, or will find more valuable objects. Not knocking Whites, I gave them a hard look and was tempted to up my budget to get one, but in my comparing all the detectors I looked at, the 1350 just seemed to have all the modes and adjustments that I wanted, the weight is not an issue, balance is good and the battery life has turned out to be really excellent (have not changed a battery yet and it still shows fully charged on the screen). I'm a happy Treasure Hunter with it. If you don't have a metal detector, get one, they all seem to work, the price goes up with more technology, it's a great, healthy hobby with some very fine people involved in it! Join the fun, and happy hunting! (Hope this review helps!)
Mar 08, 2010
58 people found DrDanO's review helpful.