Crossbow Classic PI Reviews, Price and Specifications
Pulse Induction (PI) Land Metal Detector
Retail Price: $954.00 (699.00 EUR)
Number of Reviews: 3
Avg. Rating (5.0 Stars)

Email this page to a friend.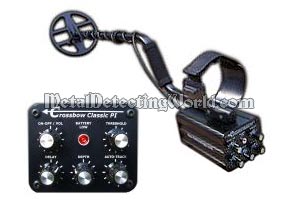 Specifications:
• High sensitivity, Outstanding Depth
• Operating System: Non-motion (automatic slow retune)
• Search coil: 25cm (10 inches)
• Battery Power: internal rechargeable battery
• Controls: On/Off/Volume, Threshold, Delay, Depth and Auto Track
• Low Battery Indicator
• Highly tuned electronics
• Adjustable stem length
• Headphone ¼-inch socket
• Charger socket
• Static/Dynamic Switch
• It is ideal for metal detecting at wet beaches and sites with difficult ground conditions and for hoard or relic hunting.
Very deep!
Hagen Volke in Germany -

I own the a Crossbow Classic PI with the serial #3. The detector was bought new from the original German vendor, who ordered the first and only batch of 13 machines. It does go deep, no question. A test vs a TDI Pro (modified machine) has revealed that the Crossbow is very close to a White's machine but does not beat the TDI Pro. Still an amazing detector with a bit of a cult surounding it.
May 07, 2017
4 people found Hagen Volke's review helpful.
Great Beach Detector
Rob Tansey in Gold Coast , Australia. -

Hi Guys! This detector goes crazy deep at the beaches. I'm getting Aussie $2 coins at 15" deep with it . I got it from Ebay in the UK. I think I have the only one outside of the UK. Cheers to George Overton for making such a beast detector.
Apr 13, 2017
2 people found Rob Tansey's review helpful.
Crossbow Classic
RickUK in London -

I am one of the lucky original owners of a crossbow classic, only 13 original models had ever been made and mine is No13. I had mine for 3 years and still very happy with the performance of this unique detector.
It's mainly aimed at deep relic/artifact and hoard hunting. It can also be used for detecting single coin size items as well. But it's not what I would call a micro jewellery machine, but, of course, it would pick large gold items, and makes an excellent beach detector.
Don't plan on selling it anytime soon due to it being such a rare detector. Prices of normal detectors deteriorate, but this model's price has either held steady or actually increased in value in the last couple of years. A few replica machines have appeared, and the folks who build them are usually very talented electrical engineers. When original models do come onto the market, they are snapped up very quickly.
Jan 28, 2017
1 people found RickUK's review helpful.