Aka Signum MFT 7272M Reviews, Price and Specifications
Multi-Frequency All-Purpose Land Metal Detector
Retail Price: $1,214.00 (890.00 EUR)
Number of Reviews: 2
Avg. Rating (5.0 Stars)

Email this page to a friend.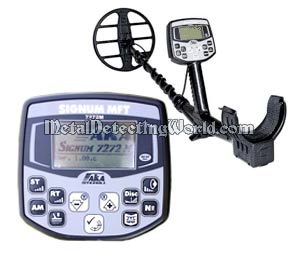 Specifications:
• Operation Frequencies: 1 to 30 kHz
• Automatic compensator input allows to reach sensitivity to 65cm for 25mm coin (with the search coil 10-inch DD/7kHz )
• A unique algorithm for identification of flat metal objects (S- algorithms)
• Large high contrastable LCD display (128x64mm)
• Immediate visualization of targets during search
• HOLOGRAPH identification of targets: spectral - graphic images
• Two independent channels of search: RT (Real Time) and ST (Short Tone)
• 4 user programs with instant access
• 4 modes of sound indication with possibility of setting the tone and limits of sound
• Automatic and Manual Ground Balance
• Automatic correction of ground balance with adjustable speed readjustment
• Dynamic and static modes of searching
• Unique algorithm discriminatory suppression and display "hot rocks"
• TURBOmode for extreme depth
• Streamlined ergonomic design
• Waterproof housing electronic control module
• Possibility for rapid operational change of search coils in the field without presets
• Power Supply: 6 x 1,5 V AA batteries
• Battery life: up to 20 hours, depending on modes
• Weight with batteries: 1.25 kg (2.75lbs)
• Additional search coils:
- 6 inches/ 14kHz
- 6 x 10 inches - 7kHz or 14kHz or 19kHz
- 9 x 12 inches - 7kHz or 14kHz
- 13 inches - 3kHz or 7kHz
- 15 inches - 3kHz
Brilliant, No iron
Stray in herts uk -

It's deep, keeps all iron out, and gets the debased silver coins unlike some other detectors.
May 28, 2016
6 people found Stray's review helpful.
THE DREAM metal detector
Rihan Alqudsi in Bandung, Indonesia -

CHARMING specifications!
Mar 20, 2014
23 people found Rihan Alqudsi's review helpful.