DeepTech Vista Relic Reviews, Price and Specifications
Relic Hunting Land Metal Detector
Retail Price: $575.00 (420.00 EUR)
Number of Reviews: 1
Avg. Rating (5.0 Stars)

Email this page to a friend.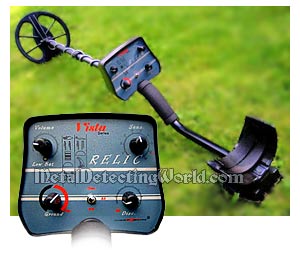 Specifications:
• Operating Frequency: 8 kHz
• Detector type: motion
• Sensitivity control
• Volume control
• Discrimination control
• Regime of discrimination - silent discrimination
• Manual Ground Balance
• Booster
• Searchcoil Type: DD
• Searchcoil Size: 11 inches
• Audio Frequency( approx.): 780Hz
• Weight ( without batteries ): 1.32kg (2.9lbs)
• Power Supply: 8 x 1,5 V AA Alkaline Batteries/rechargeable Batteries
• Battery Life: 20-25 hours
• LED control for Battery
• Optimal Temperature Range: 10-40 C
Straight forward, deep seeking, no frills machine!
Brandon Moore in Norway ME -

I have owned this now about 2 years, and here in the USA, if you are a pasture land hunter or woods and looking for something to get the job done in depth, you have the right machine. It's single-toned and has a boost for a those deep whisper signals. It handles ground mineralization very well, has manual ground balance, disc up to about foil and pinpoint. I recently had to send it back for repairs for the pinpoint switch and they updated me a new coil as well. Deeptech in my opinion has awesome customer service. If you are looking for a machine that will get the job done in most situations, this is a good candidate. The only thing about this machine is recovery speed. It is a little slow but if you like IH pennies and bullets, this is the choice for them!
Feb 26, 2014
3 people found Brandon Moore's review helpful.