Garrett GTI 1500 Reviews, Price and Specifications
All-Purpose Land Metal Detector
Retail Price: $799.95
Number of Reviews: 1
Avg. Rating (5.0 Stars)

Email to a friend.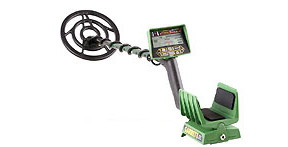 Specifications:
Single Frequency Operation - 7.2 kHz
Length: 40" to 51" - Adjustable
Audio Tone ID
Coin Alert Belltone Audio
Digital Signal Processor (DSP)
Discrimination: GTA Accept / Reject Notch
Graphic Target Analyzer (GTA), Target ID Cursor
Graphic Target Imaging (GTI ), True Target Size and Depth
Ground Balance, Automatic Ground Tracking
Hip Mount Battery Pack
Last Mode Switching
LCD Backlit, Shows Target ID and Settings
Pinpointing, with True Size and Depth Measurement
Salt Elimination Mode
ScanTrack
Touchpad Controls with One - Touch Operation
8 AA battery operation
Weight: 4.1 lbs. (1.9 kgs.)
2 year warranty
Garrett Takes The Guessing Out.
Samuel A. Isaac in Springdale, Arkansas 72764 -

I have been using Garrett products for many years with lots of luck. I bought my Garrett 1500 about 8 months ago and it has already paid for itself with my many finds. I live in North-Western Arkansas, a place with lots of history, where there are many great sites to metal detect if you ask. Happy hunting and keep at it!
Jul 05, 2008
298 people found Samuel A. Isaac's review helpful.