Garrett Eagle-Eye Treasure Hound Reviews, Price and Specifications
2-Box Metal Detector (with GTI 2500)
Retail Price: $1,729.75
Number of Reviews: 3
Avg. Rating (3.3 Stars)

Email to a friend.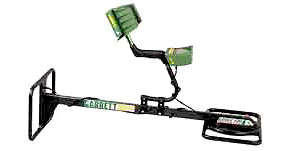 Specifications:
All Metal Deepseeking Mode
Audio Threshold, Adjustable
Coin Alert Belltone Audio
Digital Signal Processor (DSP)
Discrimination: GTA Accept / Reject Notch
FastTrack Ground Balance (All Metal Mode)
Frequency, Adjustable
Treasure Hound Depth Multiplier with EagleEyeT Pinpointing Goes 15'-18' to 20 Plus feet deep. Made exclusively to be used with the GTI 2500 Metal Detector. By itself - List Price: $249.95
A little heavy, but....
Rock in Utah\'s Outback, USA -

I purchased the Eagle Eye Treasure Hound along with the Garrett GTI 2500 Pro at the same time. At first, I thought it was junk... a little overwhelming when trying to learn both the original 2500 and the attached Eagle Eye at the same time. I gave myself 6 months to learn the 2500, and after becoming comfortable with it, attached the Eagle Eye. WOW, what a difference it makes to know your machine! The only bad thing is getting Utah's highly mineralized soils not to set it off constantly while searching for gold and silver caches. Once you learn its "language", and different tones, it turns out to be a damn good investment! The depth maxes out pretty quickly on small (less than gallon size) targets, but reads deep on bigger stuff. (Actually had my city pay me to locate the sewer lines they couldn't find with thiers). I found to relieve the weight, the removable battery pack was a blessing. The machine is still heavy, but, you need heavy duty if you are heading into the outback!
Nov 05, 2013
52 people found Rock's review helpful.
UPDATE
Giancarlo in Quito, Ecuador -

Just to add that when using Eagle Eye, you operate in all-metal mode, with no auto ground balance, no discrimination, no imaging, no auto threshold, no bi-level, no surface elimination... In other words, you have none of the above mentioned features. Just a mono-tone sound, a very unstable manual ground balance and a noisy manual threshold.
The warranty expired, so did the detector... Somebody wants it for free? At least the manual is in good condition.
May 13, 2010
28 people found Giancarlo's review helpful.
DO NOT BUY IT
Giancarlo in Quito, Ecuador, SouthAmerica -

This is really a piece of junk.

By default the GTI 2500 is a very heavy detector, but these coils make it like carrying a portable cooler, with all beer and ice, with one hand. The plastic material breaks very easily. In my first exploration the base of one of the fastening screws broke (the one in the front coil), and in my fourth trip the second one broke, plus part of the back coil. I did not find a miserable nail with it but it is now unusable.

Before breaking I got so many erratic signals that it made me think the objetc detected was alive and moving away from me while keeping underground... laugh if you want, but be warned. DO NOT WASTE YOU MONEY, like I did.

Both Garrett and Kellyco customer service told me to keep on trying until... hell freezes? a miracle occurs? I quit! Hope you make smarter desicion.
Aug 05, 2008
157 people found Giancarlo's review helpful.