Garrett CSI Pro Reviews, Price and Specifications
Crime Scene Investigation Metal Detector
Retail Price: $746.95 (€553.00)
Number of Reviews: 0
Be the first to review this item
Email to a friend.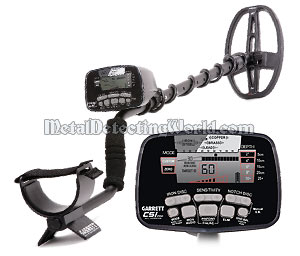 Specifications:
Operation Frequency: 15 kHz, user adjustable
All terrain versatility
Weatherproof housing designed for dusty, humid or wet environments
Fully waterproof to 10 feet (3 meters)
High-Res Iron Discrimination allows user to set iron discrimination to one of 40 levels for precise ability to separate good targets from trash.
Proportional Audio and Tone Roll Audio features allow user to hear subtle changes in a target's response to better judge its conductivity, size, shape, depth.
Fast recovery speed allows greater ability to pick out desired targets amongst trash items.
Digital Target ID: 0 to 99 Target ID scale increased ability to distinguish one target's conductivity from another.
Iron Audio allows the user to hear discriminated iron and to alter the detector's mid-tone signal's range.
Continuous Coin Depth Indicator
Graphic Target Analyzer (GTA) identifies target's conductivity
Target ID Cursor Segments: 20 - Iron Discrimination Segments, 40 - Notch Discrimination Adjustable
Search Modes: 2 (ZERO, CUSTOM)
Manual and auto ground balance
Sensitivity/Depth Adjustments: 8
Electronic Pinpointing: YES
Audio Tone ID Levels: 3
Standard Searchcoil: 5 inches x 8 inches DD PROformance
Length (Adjustable): 43 inches to 56 inches (1.09m - 1.4m)
The CSI Pro can be fully submerged to 10 feet (3 meters)
Batteries: 4 AA (included)
Battery Condition Indicator: YES
Total Weight: 2.8 lbs. (1.27 kgs.)
Warranty: 2 Year, Limited Parts/Labor
The Garrett CSI Pro is a Crime Scene Investigation Metal Detector and provides all terrain versatility and unmatched performance for metallic crime scene evidence recovery. It tuned specifically to find weapons, bullets, and shell casings. This model is not intended for hobby use.