Garrett GTI 2500 Reviews, Price and Specifications
All-Purpose Land Metal Detector
Retail Price: $1099.95
Number of Reviews: 7
Avg. Rating (3.9 Stars)

Email to a friend.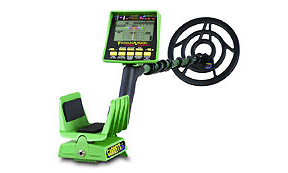 Specifications:
Single Frequency Operation - 7.2 kHz, adjustable
Graphic Target Analyzer (GTA), Target ID Cursor
Graphic Target Imaging (GTI), True Target Size and Depth
Ground Balance, Manually Adjustable
Ground Balance, Automatic Ground Tracking
Headphone Jack
Hip Mount Battery Pack
Last Mode Switching
Last Target Recall
LCD Backlit, Shows Target ID and Settings
Microprocessor Controlled
Pinpointing, with True Size and Depth Measurement
PowerMaster Circuitry
Salt Elimination Mode
ScanTrack
Surface Elimination, Adjustable
Surface Mount PC Board Technology
Touchpad Controls with One-Touch Operation
TreasureTalk
Length: 40" to 51" - Adjustable
8 AA battery operation
Weight: 4.6 lbs. (2.1 kgs.)
2 year warranty
Excellent Machine
Ron in Montana -

So I was reading the other reviews on this site and noticed the bad reviews are from guys that are new to detecting and do not know how to use this fantastic machine!!!!!!! Or just too stupid to learn anything new! This detector is one of the easiest units to learn and use. You can tweak this machine, and the imaging feature is one of its best points. I love the reassure Feature as it does seem to hit false signals. Those are very small pieces of iron. Put a rare earth magnet on your digging pick and you will find your ghost signals!! I own a number of other detectors from most of the major manufacturers, and this is the deepest of them all, and you can purchase a number of coils for the 2500 to make it extremely versatile including the two box coil for buried cars and planes. You can also nugget shoot with this detector, and hunt for relics with the DD coils. In All Metal Mode it does go deeper than the Garrett At Gold and Pro. This detector maybe heavy, but it is still one well made unit that functions very well, and you just have to learn how to use it!!!!
Feb 22, 2016
5 people found Ron 's review helpful.
This is a 10+ star detector !!!
Rick in Pacific Northwest -

This is an excellent detector. Learning and understanding how to use it is the most important requirement of this detector. I have been on the beach in a highly mineralized area in relic mode and hit a strong signal. So I dug about 7 inches and found about half a chrome plated hook. It was about 3/8 inch long or 1 cm. The only reason I found it was my rare earth magnet on my pick, which picked up the hook! I have found very small, deep targets. This detector does not miss a thing you just have to learn how to use it first. I use almost every mode on the detector and tweak each one for the ground and area I am hunting. Sometimes the Coin mode has to much disc so I switch to Jewelry mode or sometimes Zero mode. If I am nugget shooting, I use All Metal mode, and it does work! I own all of the coils and two box eagle eye coil. This is the most versatile detector on the market today! Mine is a keeper and if you are having a problem, Garrett's service dept is pretty good.
Dec 09, 2014
9 people found Rick's review helpful.
Garrett GTI 2500 Has an Excellent Accuracy
Raymond Bedell in United States -

I have had this detector for several years and have loved every time I go out with it. I have a garden we use to test the ID's of the coins and trash, and GTI-2500 is very accurate. I would say GTI-2500 is 85% to 90% correct in depth reading, pinpointing and ID'ing out in the fields. My detecting buddy has the Minelab Explorer and he is constantly asking me to pinpoint his target to check its exact location and size!
I would highly recommend the Garrett GTI 2500!
Jun 24, 2010
38 people found Raymond Bedell's review helpful.
Best Detector for Certain Conditions and Uses
Relic Reaper in Canada -

I've been using Garretts since I started in 1998. I've had an original Ace, a 1000, a 1500 and the last 4 yrs a 2500. It is a great ghost towning machine as the imaging is a great feature. I've compared it head up with all the main detectors and it holds its own. If you are into relic hunting and hunting plowed fields here in Canada as well as the UK, the large 12.5 imaging coil is a great combination. I've found 3 celtic gold coins, hundreds of old silver coins, fur trade silver, and lots of military buttons at old camps. It is a heavy machine, so long detecting bouts will be a workout. For this reason I added a Tesoro Tejon to my arsenal. Most people don't tweak it but it is a totally different and deeper unit if you manually ground balance. It gets as deep in this mode as Minelab , Tesoro and Fisher, and the warranty and service people are some of the best in the business. They are due for a revamping as the technology it uses has been out for at least a decade, however it still is a great unit.
Sep 13, 2008
11 people found Relic Reaper's review helpful.
Disappointed
Tony (tking92158@comcast.net) in New Hampshire -

I have metal detected for over 30 years and owned 5 different detectors. I was hoping the GTI 2500 would be the end-all detector, but after spending all that money I am not completely satisfied. I have found many good coins, however the machine is electronically unstable and gives many false signal beeps. It becomes difficult to tell which signals are real, resulting in slow going because I have to test and retest spots to determine if the signal is real. There are many adjustments in the setup menu, I have used and understood them all completely, but I consider most of them just fluff. The bell tone feature is ok, but not a guarantee of true/false. The imaging is fair, accurate about 40% of the time. Depth is questionable in discriminate mode, and depth is totally lost when set to the salt elimination mode. Discrimination does offer good flexibility in defining your target. I owned a Garrett ADS III from the early 1980s, and I consider it every bit as good as the GTI 2500. I had really hoped to see a huge leap in capability with the new electronic technologies over the last 28 years, but was very disappointed. I even question if the instability is unique to this single machine? Is there an upgrade or tune up that can be done to fix it? Wish I knew.
Sep 06, 2008
15 people found Tony (tking92158@comcast.net)'s review helpful.
FACTS AFTER NOVELTIES
Giancarlo in Quito, Ecuador, SouthAmerica -

Don not make the same mistake I made. When researching for a detector, read twice and between lines. Be suspicious as advertisers leave out limitations of its products. The GTI 2500 is REALLY heavy. You may carry it for 30-45 minutes, but afterwards your hand can hardly keep steady (shakes as if you were drunk). The discrimination seriously limits depth, and accuracy is a fantasy. Many times I detected ghost signals (erratic) and sometimes solid steady signals, but after digging there was nothing, not even junk. All-metal mode sounds even for bottles burried underground. Did I receive a defective detector? Maybe, take it into consideration. Do not blind yourself with the adds about graphical and voice features. You will end up turning them off for mental sanity, they are good for impressing your friends, but that is all. I have my 2500 for a year now and happily would exchange it for an ACE 250 (depth multiplier included), or even a White DFX. I suggest you to read this review again from the beginning.
Aug 05, 2008
17 people found Giancarlo's review helpful.
My 2 Cents
Deno Barbour in Louisville, KY USA -

I have owned a GTI 2500 for 5 years. The things I liked about it were the belltone & the target imaging that is right on up to 6", the all metal mode that goes down to the devil. The things I don't like about it are the treasure talk, no tone Id, it locks up under 25 degrees, you cant tweak it - nothing to tweak, the battery compartment tabs, you will break some fingernails on this baby(poor design). I could go on but I am going to quit. After 5 years of butt whippings from a Nautilus & a White's XLT, I was green no more. But the deepest coin I ever found so far (after 8 years of detecting) was found with this green machine. A 1936 George Washington silver quarter was laying flat at 7 inches in a hunted out old park. My one and only whisper, I always though this was a myth, I never was able to reproduce such a whisper during the air test.
Jun 17, 2008
30 people found Deno Barbour's review helpful.