Whites Sierra Super Trac Reviews, Price and Specifications
All-Purpose Land Metal Detector
Retail Price: $700
Number of Reviews: 1
Avg. Rating (5.0 Stars)

Email to a friend.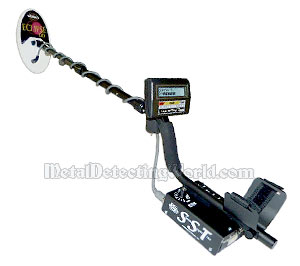 Specifications:
Operation Frequency: 14 Khz (high enough for small and low conductivity targets like jewelry and low enough for good target identification on coins sized objects)
3 Simple Controls:
High performance GAIN (maximizes sensitivity and depth)
Fast Auto Trac® (tracks and adjusts while you hunt)
Depth Reading: YES (squeeze the trigger and the screen shows how deep to dig a target)
Audio (7 tones) and Visual Target Identification
1/4 inch headphone jack
Waterproof 6 x 10 inches inch Eclipse Search Coil
Visual Display: Yes
Battery Life: 40 hours using the 12Volt AA holder
Warranty: full 2 year warranty on parts and labor
Operates in an All Metal / Silent Search mode with Audio and Visual Discrimination Indicator
Recommended for finding gold on the goldfields, coins and jewelry on the beach or coins in and around old buildings or parks.
SST Heavy Use
J Lovino in SLC USA -

Got brand new for 400.00 3 months ago. Easily hits sub gram gold. First week hit a 10.7 gram man's gold 18k ring. Tons of small jewelry. So light like hunting with a broomstick in your hand. Like all detectors you got to learn it. I feel I do have a threshold. You can lock tracking and I have found some little amazing tricks with it. Found thin .925 necklaces, just 2, small silver and gold earrings. Many junk jewelry items. For parks, beaches...heck I'd try it anywhere at any hunt. When I want to take it easy and not dig 10" plugs with Minelab, go after jewelry, and swing a stick... I have fun with the SST. Just me I guess. Oh also got 5 silver rings and several silver small, way old necklace pendants. With gain I have learned to pull back a bit on all targets sounding in heavy junk areas. It's way fast and way light. Having fun with it, been swinging Whites and Minelabs for many years. Take care out there you guys and best wishes always from Utah!
Jan 29, 2015
10 people found J Lovino's review helpful.