Lorenz Deepmax Z1 Reviews, Price and Specifications
Professional Deep Seeking Treasure Hunting System
Retail price: $10,999.00 (EUR 8,200.00)
Number of Reviews: 0
Be the first to review this item
Email this page to a friend.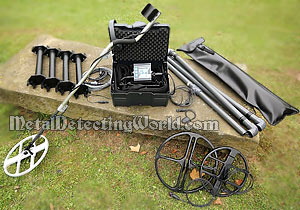 Specifications:
• Great tool when searching either for small objects deep in the ground when in conjunction with small coils or large objects at greater depth when search square frames are used
• Highly sensitive to all kinds of metal
• Stable operation on mineralized ground or salt water with Pulse Ground Balancing System
• Reliable / simple operation with few controls and customized LC Display
• Exact pinpointing with large coils
• Very easy and effective detection of large areas
• Rugged, refined mechanical construction with water and dust protected electronics unit
• A variety of search coils are available for different detection purposes:
14 inches Coil, 18 inches Coil, 40x40 inches frame square, 40x40 inches double frame square
• Automatic adaptation of different coil sizes and coil designs to the electronics
• Small unwanted metal objects can either be identified or eliminated
• Fast audio response speed with different audio settings
• Logarithmic audio response and intensity bar graph reading for easy pinpointing
• Battery check with audio alarm tone
• Calibrated static (non-motion) target classification with visual conductivity/ time delay reading
• Improved ferrous / non-ferrous identification
• Precisely adjustable audio-threshold
• Stable static response (acoustical and visual)
• Waterproof search coils
• Interchangeable rechargeable NIMH Battery pack for worldwide operation
• Fast charge electronics for worldwide operation 90-265V AC/ 50-60Hz
• Car charger for 10-30V DC supplies available as accessory
• Frequency and Filter function for low frequency EMI interference elimination
• Automatic ground calibration retuning facility
• Different Delay and Sensitivity settings to eliminate small objects or for easy pinpointing
• Extreme detection depths for very large metal objects
• Specialized on gold and improved detection range on low conducting metal pieces
• Low frequency interference elimination circuitry for less interference in urban areas
• High dynamic range for extreme ground signals and easy pinpointing
• Optimal performance for the detection of small objects like coins or other non-ferrous objects
• Single or dual induction balanced or differential coil designs can be used
• Multi sensor detection (MST) with several search coils working at the same time without interfering each other.
• Easy to use data logger function works with additional Hard- and Software kit to generate six 2D image and six 3D surface maps from the scans being taken.
• GPS based meter, Track, Field and Compass Heading information, makes it easy to work with the data logger
• New search system circuitry with all new functions
• Signal strength bar graph, time delay reading, ferrous/ non-ferrous icons, battery condition and all the mode settings are displayed simultaneously on a large LC Display
• Detection Depths:
• • Gold nugget Diameter = 13 / 64 inches:
14 inches Coil - 18 inches
18 inches Coil - 12 inches
• • Silver coin Diameter = 2,5 cm:
14 inches Coil – 19.5 inches
18 inches Coil – 21.5 inches
• • Brass plate 4x4 inches:
14 inches Coil - 40 inches
18 inches Coil – 43.5 inches
40x40 inches frame square - 57 inches
40x40 inches double frame square - 5' 6 inches
• • Softdrink can 3x6 inches:
14 inches Coil - 3' 11 inches
18 inches Coil – 4' 3 inches
40x40 inches frame square - 5' 4 inches
40x40 inches double frame square - 6' 6 inches
• • Iron box 12x8x6 inches:
14 inches Coil - 5' 6 inches
18 inches Coil – 6' 6 inches
40x40 inches frame square - 9' 2 inches
40x40 inches double frame square - 11' 1 inches
• Plastic carrying case with foam padding
• Telescopic S pole, consisting of three rods
• Stereo Headphones with four way connector
• 14 inches (35 cm) DD-searchcoil
• 1 x 1m frame coil with carrying straps
• Adjustable shoulder and belt strap with detachable rechargeable battery pack
• Fast charger with wide range AC-input (90-265V)
• EURO AC adapter (standard)