Nexus Credo Reviews, Price and Specifications
All-Purpose Land Metal Detector
Retail Price: €650.00 ($870.00)
Number of Reviews: 1
Avg. Rating (5.0 Stars)

Email to a friend.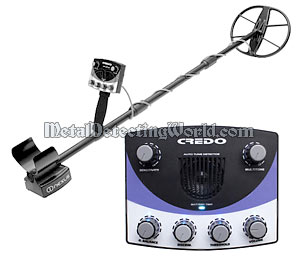 Specifications:
Operating Frequency Range: 6 - 18kHz
Coil Design: DD
Coil Weights:
13 inches DD - 650g
10 inches DD - 540g
7 inches DD - 350g
Coil Case Construction: ABS plus Fiberglass
Audio Frequency: Custom tuned
Audio Output: 6mm stereo headphone jack
Power Supply: 15v (10 AA alkaline or rechargeable batteries)
Battery Life: up to 40 hours
Operating Modes: All-Metal, Discriminate and Auto tune
Optimum Temperature Range: 15° to +60° C
Optimum Humidity Range: 0 to 85% RH
Credo utilizes 44% more powerful transmitter than the previous top model Nexus Standard SE
Credo is suitable for work on every site, every ground condition and also salt water tidal beaches. Heavy mineral conditions are not challenge.
Credo is a non motion type of detector with fast auto tune, with induction balance resonant tuned (99%) search coil.
Auto function controls together the Threshold, Discrimination, Ground Balance and Iron Rejection Mode.
Tri-pole stem construction enables every user to work with the detector on very steep surface, river banks, caves, narrow spaces.
Manual controls:
Volume combined with a Power On/Off switch
Threshold combined with Auto function switch
Sensitivity
Discrimination
Ground Balance
Multi tone
Iron Rejection Mode toggle switch
Build in loudspeaker
Headphone socket
Battery recharge socket
10AA battery compartment
Weight (main unit only): 950g (without batteries)
Do Nexus detectors go deeper?
Don Bowers in Middletown, Pa. -

I recently purchased a Nexus Credo mostly because I was curious to see how a "full resonance" detector compared to other brands I have used. Besides the Credo DDM, the Credo comes in two revisions. The older version, which I have, does not have "turbo mode" or "stabilized multi tone", which for me is not an issue.
To start with, I find that the minimum performance standards listed on the Nexus website basically hold true for this detector, even in real ground conditions. With that being said, I will tell you that depth is determined by coil size and ground conditions and that is no exception with this detector! My ground conditions rob all my detectors of nearly half of their depth capabilities and it's most apparent in disc modes.
Most notably this detector is advertised as non motion with a fast auto-tune. It makes the detector behave "similar" to a motion type detector. Also, disc mode does not have a sharp break point between accepted and rejected like some other detectors I have used, but is adequate. Lastly, this detector goes amazingly deep in all metal mode. I find myself relic hunting in all metal mode and switching to disk mode often to check things more carefully.
Apr 15, 2016
3 people found Don Bowers's review helpful.