Nexus Credo DDM Reviews, Price and Specifications
All-Purpose Land Metal Detector
Retail Price: €950.00 ($1,280.00)
Number of Reviews: 1
Avg. Rating (5.0 Stars)

Email to a friend.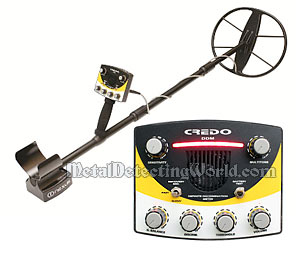 Specifications:
Operating Frequency Range: 6 - 18kHz
Coil Design: DD
Coil Weights:
13 inches DD - 650g
10 inches DD - 540g
7 inches DD - 350g
Coil Case Construction: ABS plus Fiberglass
Audio Frequency: Custom tuned
Audio Output: 6mm stereo headphone jack
Power Supply: 15v (10 AA alkaline or rechargeable batteries)
Battery Life: up to 40 hours
Operating Modes: All-Metal, Discriminate and Auto tune
Optimum Temperature Range: 15° to +60° C
Optimum Humidity Range: 0 to 85% RH
Credo utilizes 44% more powerful transmitter than the previous top model Nexus Standard SE
Credo is suitable for work on every site, every ground condition and also salt water tidal beaches. Heavy mineral conditions are not challenge.
Credo is a non motion type of detector with fast auto tune, with induction balance resonant tuned (99%) search coil.
Auto function controls together the Threshold, Discrimination, Ground Balance and Iron Rejection Mode.
Tri-pole stem construction enables every user to work with the detector on very steep surface, river banks, caves, narrow spaces.
Manual controls:
Volume combined with a Power On/Off switch
Threshold combined with Auto function switch
Sensitivity
Discrimination
Ground Balance
Multi tone
Recovery Speed toggle switch
Battery test toggle switch
Iron Rejection Mode toggle switch
Build in loudspeaker
Headphone socket
Battery recharge socket
10AA battery compartment
Weight (main unit only): 1.0kg (without batteries)
un lupo cattivo profondissimo (a big bad wolf deep)
Roberto Perego in saronno.va.italy -

I'm happy for quality and accuracy of discrimination and excellent depth. Thanks Nexus!
May 01, 2015
7 people found Roberto Perego's review helpful.