Golden Mask Deep Hunter Reviews, Price and Specifications
Pulse Induction (PI) Deep Seeking Metal Detector
Retail Price: €560.00 ($750.00)
Number of Reviews: 3
Avg. Rating (4.3 Stars)

Email to a friend.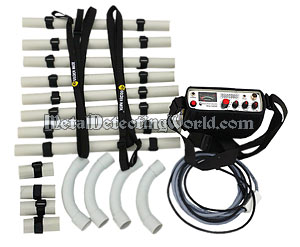 Specifications:
Principle of operation: high-frequency pulse induction in slow motion mode, specifying the type of metal.
Electronic control unit in leather case with built-in battery that provides approximately 10 hours of continuous operation at maximum power
Charger: 'Golden Mask Extra Special' battery charger
Search coil: Square frame 120 x 120 cm
Optional Search Coils: 32 x 38cm and octagonal frame 8 x 50cm coil
Controls and indicators:
VOLLUME (on / off) - a potentiometer control of sound power and 'on/off'
'POWER' – a potentiometer controls transmission power
'THRESHOLD' – a potentiometer for setting the initial rate sound indication (adjusted in the absence of metal under a search coil
'GROUND' – a 'multi-turn' potentiometer to adjust the Ground Balance
'TUNE' – a button to start tuning the system to eliminate the influence of soil and quickly eliminate noise during operation
'SIGNAL' – analog measurement system to indicate the level of a signal during the search
'Fe', 'n-Fe' - LED indication of the type of metal:
'green' - for ferromagnetic and 'red' for nonferrous metals
'Low battery!' - LED indication of low battery
Golden Mask deep Hunter Pro
Fernando in Las Vegas, NV in Not Submitted -

Well, I have no doubt about the power this machine offers. The only thing is that the guy leaving a review here named Joshua has the same name as the guy who sold me my golden mask, kind a coincidence, and his phone number not longer answers to my calls or texts. He used to treat me very kindly, now I lost my owner's manual and can't find one online like other brands with reputation. Now I am on my own with warranty or any support that I might need for it, and still can't get a Manual for it.
Feb 20, 2016
7 people found Fernando in Las Vegas, NV's review helpful.
No Online Manual - That's Very Very Sad and Disappointing
Fernando (Prospexican) in Las Vegas Nevada -

Well I did an air test or bench test on this machine, and today I was trying to do another test with the full extended square coil, might be like 1.5 or so meters. I went outside to my back yard and found that, after sitting for 2 to 3 weeks with full charge, now battery is very low. Well, the main problem is that the hard or the soft case that come with the machine will not hold the instructions manual, and now I misplaced the manual. Probably it is my fault, but any company with reputation has Manual online, like Garrett, Whites, Tesoro, Minelab, Fisher etc. But Golden Mask has not manuals to Access online? I hope to be wrong, and someone will correct me. By the way, I was happy with the 1st air test where I could sense a 1.5 gallon stainless steel dish at 1.5 meters with strong signal target. But today I will try to charge the unit again and test it again with no Manual.
Oct 27, 2015
4 people found Fernando (Prospexican)'s review helpful.
Golden Mask Deep Hunter Pro
Joshua in USA -

My father and I had ordered this detector about 6 months ago, and because of its impressive results, ordered a second one so both of us could pursue our dream. I must say that this is by far the best pulse induction metal detector I have ever used out of the three models I've tried in the past. Unlike the other units I have used, the Golden Mask Deep Hunter Pro allowed my father and I to work under and near power lines whereas our previous PI machine wouldn't even operate efficiently because of the interference. If you like metal detecting, I highly recommend checking out Golden Mask metal detectors. This company offers awesome machines with various options. I have since sold all my previous detectors and strictly only use Golden Mask detectors because of their great depth, performance and reliability.
Apr 20, 2014
47 people found Joshua 's review helpful.