Minelab Quattro MP Reviews, Price and Specifications
All-Purpose Land Metal Detector
Retail Price: $849.95
Number of Reviews: 2
Avg. Rating (4.0 Stars)

Email to a friend.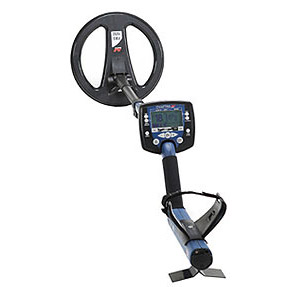 Specifications:
Coil: 10.5 inch (264mm)
Audio Output: Internal speaker or headphones
Headphone Input: 1/4 inch (6.3mm) stereo jack
Technology: Full Band Spectrum (FBS)
Transmit Frequency: Multiple Frequencies (1.5, 3, 4.5....100kHz)
Ground Compensation - advanced digital filtering
Discrimination: Linear -10 to +40 discrimination options
Visual Display: 64x128 pixel liquid crystal display (LCD)
Detect Modes: 4 (Coin; Coin/Jewellery; Relic; All Metal)
Pinpoint: Visual and audio
Personal Modes: 4 Programmable/Save
Automatic Noise Cancel (Scanning)
Trash Density Settings: 2 (High/Low)
Target Depth Meter (0-12 or more inches)
Battery Meter (with audible low battery warning)
Weight: 3.7 lbs (excluding batteries)
2 years Warranty for Control Box
1 year Warranty for Coil
Park Quattro
Tinkertoymetaldetecting in Northeast ohio -

Well being my first Minelab detector, I thought it was a lot heavier than most of the other detectors I've used. And as far as balanced, I didn't really like how it was balanced. Ease of setting up detector and operating it was real nice. Maybe with a smaller coil other than the 10 inch would have been better. The detection depth was pretty good: dimes about 8 inches down! Not to shabby for clads. After about 3 hrs of swinging, my arm was real tired. Overall it's a very good detector with good trash eliminating qualities.
Sep 12, 2016
0 people found Tinkertoymetaldetecting's review helpful.
Easy To Operate and Effective
Sergei from Upstate NY in Albany, New York -

I had a chance to use the Minelab Quattro for a day at the random location littered with modern junk. I set this detector up to its maximum detecting depth, but not in All Metal mode. It was an almost-like-Explorer experience on a good side of it. The separation and identification of targets was great. The machine proved to be an easy to set up and operate, and quite effective. With the small and medium size iron targets being discriminated, the detection of large iron targets was excellent. Of course, being a machine of a lower class than Minelab Explorer, the Quattro showed some limitations, for example, it did not go as deep as Explorer does. But the good thing was that I did not hear the cacophony of sounds - a usual behaviour of the Minelab Explorer at the trashy site. Despite the lack of good targets, I had a comfortable experience and enjoyable day of metal detecting.
Aug 24, 2008
37 people found Sergei from Upstate NY's review helpful.