Mikron NRG 110 Reviews, Price and Specifications
All-Purpose Land Metal Detector
Retail Price: €310.00 ($415)
Number of Reviews: 2
Avg. Rating (4.0 Stars)

Email to a friend.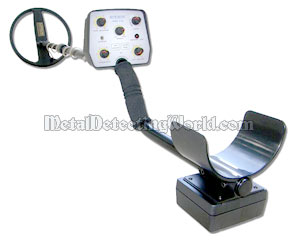 Specifications:
Operation frequency: 22 kHz
Microprocessor control of discrimination and auto ground balance
Automatic sound discrimination of metals during searching
Manual or automatic Ground Balance
Additional filter for tuning to high mineralized soils
VCO for pinpointing
High tolerance to electromagnetic interference
Low Battery indicator
Search Coil: stock 27cm
Power: Built-in 12V Battery
Battery Life: 15 hours; with external battery - 60 hours
Weight: 1.6 kg (3.52lbs) including batteries
Another specialized detector from Bulgaria.
Greg in Davie County, North Carolina -

Well, this machine is another 2-tone machine like the DeepTech Vista Gold and is lightweight and just as quick on response times as well. It goes deeper than the DeepTech though and has a rechargeable battery pack with cord unlike the DeepTech which requires the standard 8 AA batteries. Like the DeepTech, it only has minimal discrimination but unlike the DeepTech Vista Gold, cannot eliminate an aluminum pull tab. If hunting in an event field like where they hold outdoor summertime concerts, the targets are sometimes fewer and further between, so the the bad targets aren't going to audibly overwhelm you. So you'll have an easier time going after the good targets with this detector more or less. It's easy to manual ground balance the machine, and it does have an auto GEB (ground exclusion balance) disc. search mode. Just tap the 'AUTO GEB' soft touch interface on the front and that puts you into the auto GEB search mode. The shape of the control box is exactly the same shape as of a Tesoro Tejon, Cortes, Vaquero, Outlaw, etc., but just larger. It's quite obvious that Mikron borrowed this shape from Tesoro. Tesoro has used this shape for their control boxes since the late 80's and I think, they were the first with this shape. The Mikron NRG-110 has only been out for several years now. Well if you want 'really deep', this machine is it and is comparable to the Tesoro Tejon in depth and lighter weight than the Tejon. If you want a domesticated, toned-down, user friendly 'go anywhere' detector, than this detector, just like the DeepTech Vista Gold, may not be for you. Once again like the DeepTech, this detector should be excellent for deep relic, small/large gold nugget hunting. Well, Good Luck and Happy Hunting!
May 01, 2014
8 people found Greg's review helpful.
Warning
Greg in Advance, NC USA -

This detector is absolute crap right down to it's cheap plastic armrest that's already cracked along the bolt connections. It will NOT ground balance to the clay soils in my area no matter what I do and even in the autotune mode, you'll still hear far too many signals that, if it was designed with proper discrimination, which it's not, it should be able to disc. out a simple aluminum pull tab but it barely even does that. So it basically chirps on everything. Talk about information overload. Too many buttons to fiddle with all affecting each other in a detrimental way, like the disc., depth, and gb. To summarize, this machine is way too complicated and touchy even for someone like me who's been MD'ing for 26 years. This is truly a 'find everything' detector if you like that sort of thing. Otherwise, PLEASE stay away from this unit. Not user-friendly and not recommended to anyone and you've been warned.
Apr 13, 2014
6 people found Greg's review helpful.