Garrett ATX Reviews, Price and Specifications
All-Purpose Land PI Metal Detector
Retail Price: $2,495.00
Number of Reviews: 1
Avg. Rating (5.0 Stars)

Email to a friend.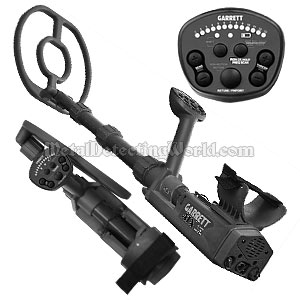 Specifications:
Maximum Detection on all targets at the same time. No need to switch modes to enhance detection of one target while degrading another.
Advanced Ground Balance: has wide range to ground balance from heavily mineralized ground (ironstone) to saltwater without switching to special modes.
Exclusive Design DD Searchcoil: enhances detection of small items without having to slow down the scanning speed of the coil.
Motion and Non-Motion Modes: provides optimum performance based on your hunting preference and conditions.
Fully Collapsible: the ATX can be operated with its stem fully extended, fully collapsed, or anywhere in between.
Quick Iron Check feature and adjustable Discrimination
Ground Track with 4 settings: Choose setting that best handles rapidly changing ground mineralization.
LED Indicators: show signal strength and current settings.
External Speaker: built in for option to search without headphones.
Frequency Scan: auto function for eliminating RFI interference.
Audio retune: quickly cancel out unwanted ambient signals.
Volume Control: adjust to limit the response of large signals in order to better hear deep/faint signals.
Circuit Type: Advanced Pulse Induction
Discrimination: Adjustable, 25 settings
Search Modes: 2 (Motion and Non-Motion)
Ground Balance Range: From ferrous ground (ironstone) to saltwater
Audio Threshold: Adjustable, 25 settings
Detection Frequency: 730 pulses per second, adjustable
Submersion Depth: 10 feet (3m)
Sensitivity/Depth Adjustments: 13
Electronic Pinpointing: YES
Quick Iron Check: YES
Standard Searchcoil: 10" x 12" PROformanceâ"¢ DD
Standard Land Headphones: Included; weight 16 oz. (0.45 kg)
Length (Adjustable): 20" to 68" (.51m - 1.72m)
Total Weight: 6.9 lbs. (3.13 kgs.) with batteries
Batteries: 8 AA (included); rechargeables also included
Warranty: 2 Year, Limited Parts/Labor
Brilliance
Paul Rowe in bundaberg -

I found a 3.1oz nugget 16 inches in hot ground in the victorian gold fields on my 3rd day of prospecting. Marvelously build quality worth every cent of the 700 I paid for it. And you don't need to switch coils to find the sub gramers - I love it! :)
Mar 02, 2015
14 people found Paul Rowe 's review helpful.