Cen-Tech Pinpointer Reviews, Price and Specifications
Hand-Held Electronic Pinpointer
Retail Price: $16
Number of Reviews: 2
Avg. Rating (5.0 Stars)

Email to a friend.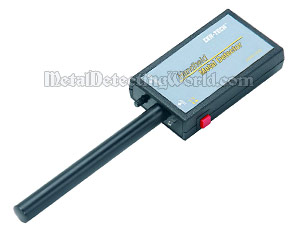 Specifications:
Detects metal objects in all directions
Highly precise identification system with adjustable sensitivity
Waterproof wand
Compact, lightweight design
Overall dimensions: 10-9/16" L x 2-7/8" W x 1" H
Shipping Weight: 0.63 lbs.
Includes LED spotlight and carrying case
Battery: 1 x 9V (included)
Warranty: 90 days from the date of purchase. Limitations apply.
Not Bad For The Money!
John Scott in Albany, NY USA -

This pointer is low end but does work and better than some other low end Pinpointers costing a lot more. It can be improved upon, if you are the type that is into making modifications, many of which can be found on Youtube.
Depending upon the target size, I can pick up a dime or penny at about two inches from the point of the wand. It will detect about an 1 and 1/2 inch at the sides. Silver dollar targets it will go about 5 inches.
The bad part is that it can be sensitive to temperature and you will have to adjust the sensitivity knob just under a tone alert. It gives no indication of depth, and it is just one continuous alert, so if it still alerts in a plug hole, just go deeper or to the side as it indicates.
Keep dirt out of the switch as that will kill it. The switch can be changed out, but I solved my problem with just some loose duct tape over the switch.

The good,
There is an adjustment inside the unit that you can fine-tune to get better depth.
It has a LED light that puts light in the plug hole - that I really like!
Pro's: Inexpensive and can be modified to suit your needs really well for just $16.00. So if you lose it or break it, no big deal!!
Con's: It may require some tinkering to get it where you want it, but it is very accurate when you are pointing. So if your handy, you can have a very decent Pinpointer for under $25.00.
It's the only pinpointer I use and I've used it for over a year. And I pull coins with it everyday.
This pinpointer may not be for everyone who is not handy with modifications or has any patience and is willing to spend $125 to $150 on just a pinpointer.
Oct 06, 2014

Just can't argue with an incredible bargain
Tony in New Germany, Minnesota, USA -

Yes it's made in China and I probably wouldn't want to use it to fend off grizzlies but, dang it, the thing just works. Ok, out of the box, but if you open it up there's some electronic doohickey that you can tweak with a tiny screwdriver (found the directions on-line somewhere). Bumps the sensitivity up considerably. Downside is it also gives you less room to adjust the knob on the top so you can only go so far. I get 1-2 inches of sensitivity with mine. Don't really want or need more than that. Seen some outrageous claims by others. No "on/off" switch to forget and wear the batteries down. Just push the spring-loaded button on the side, the light comes on and it's working. Beeps only but loud enough that I can hear it fine with headphones on. Going to pick up a rubber chair leg cover to slip over the end to help protect the tip. Tape would probably work, too. Under $20 and 20% off coupons available everywhere. For those like me who doesn't have money to burn this is the ticket.
Aug 17, 2014