MP20 Reviews, Price and Specifications
Pulse Induction All-Purpose Land Metal Detector
Retail Price: €435.00 ($590.00)
Number of Reviews: 0
Be the first to review this item
Email to a friend.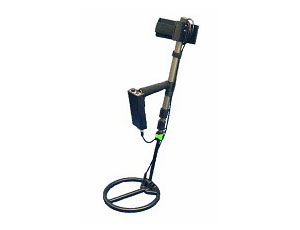 Specifications:
Pulse Induction Technology
3 Search Programs emphasizing on highest sensitivity, ground rejection, and discrimination of small objects.
Static or Dynamic search mode
Auto-power-off function
Search Coil: 25cm (10"), water proof
Power supply: 3 "AA" size alkaline batteries or NiCd/NiMH rechargeable batteries
Operating time: more than 70 hours (alkaline batteries, 20°C)
Dimensions: incl. controls 170 x 80 x 30 mm (6.7" x 3.2" x 1.2")
Telescopic Pole Length: 560mm to 1350mm (22" to 53")
Operating temperature range: -32°C to 70°C (-25°F to 158°F)
Accessories (at extra costs): Headphones, Carrying bag (rucksack)
Detection depth (in air, most sensitive program):
Steel pin: 1mm x 10mm 12cm (5")
Nail: 30mm x 1mm 22cm (9")
1 DM coin: (24mm dia) 25cm (10")
Iron sheet: 25cm x 25cm 85cm (34")
Housing, controls and connections splashwater and dust proof
Wrong battery polarity protection
No average DC magnetic field (important for mine detecting)
Weight: approx. 1.3kg (2,8lbs)
MP20 can be used for timber industrie, water and utility companies, building contractors, locating munition and bombs, mine detecting and hobby.