Nokta Golden Sense Reviews, Price and Specifications
Gold Nugget/Deep Target Metal Detector
Retail Price: $1,350.00
Number of Reviews: 5
Avg. Rating (3.0 Stars)

Email to a friend.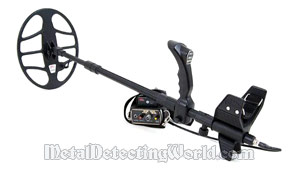 Specifications:
Operating Principle : Induction Balance
Operating Frequency : 17.5 KHz
Search Modes : 3 (All Metal/Discrimination/Iron Off)
Metal Identification : LED and audio warning
Sensitivity Setting : Manual
Visual Discrimination : 2 LED's (Ferrous and Gold/Non-ferrous)
Audio Discrimination : 2 tones
Ground Balance : Manual
Search Coil : 34x41cm (13"x16") waterproof Double-D
Battery : Rechargeable Lithium Polymer
Headphone Output : 1/4" mono
Length : 95-130cm (37"-51") extendable
Weight : 1.7kg (3.7lbs) including the search coil
Warranty : 2 years
Golden Sense finds shallow gold nuggets, coins and other metals at incredible depths that other detectors cannot reach.
I have one
Bw in Coventry ri -

Every thing said about it is right on. It's a little bit on the heavy side. Ground balance is touchy, but if you put the time in this detector, it will find small things twice as deep as your average 400 to 600 dollar machine.
Jun 09, 2016
3 people found Bw's review helpful.
Golden Sense makes sense
George in Midwest, USA -

A buddy and I own a couple detectors each - Goldbug II and Infinitum. We hunt mostly gold, but also relic hunt too. The Golden Sense is awesome. If you follow the very simple instructions that come with it, you will be finding things like a pro in no time. Also, it can and does find a 0.7 gram piece of gold at approximately 9 inches. We air tested, then buried it in a glass vial with plastlic lid. Same results. It lit up immediately. An old .32 cal musket ball around 16 inches. Also, the handle has an indicator for ferrous and nonferrous material, with corresponding red and blue led lights. The coil is a bit large, but you can also get a smaller one. And their customer service is quick and responsive. Very nice people. If you're a serious hunter, it just makes sense to have one.
Jun 02, 2014
18 people found George 's review helpful.
Piece of S**t
Stephano in indiana usa -

A complete piece of s**t! Do not waste your money on this junk! If it is so good, where are all the reviews?!
Mar 04, 2014
2 people found Stephano's review helpful.
Golden Sense is simple to use
GT in Montana -

Although this machine is made in Turkey, it is simple and very well made. Kellyco has a good video of the put together, set up and use. My initial use will be away from populated areas, gold detecting. I will dig everything. So far, I'm impressed with its weight and indication on the handle of ferrous or non-ferrous and high, low or double tones from the box.
Apr 15, 2013
20 people found GT's review helpful.
nokta?
Stephano in usa -

where in heck are the reviews for this detector? sounds like a bunch of c**p to me.
Jan 21, 2013
7 people found Stephano's review helpful.