Tesoro Outlaw Reviews, Price and Specifications
All-Purpose Land Metal Detector
Retail Price: $649.00
Number of Reviews: 1
Avg. Rating (5.0 Stars)

Email to a friend.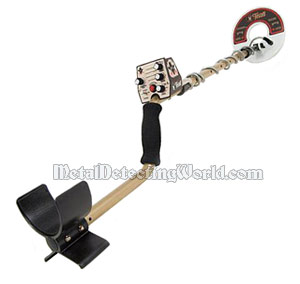 Specifications:
Operating Frequency: 10.6 kHz
Silent Search VLF-motion Discriminator
Audio Frequency: Approximately 630 Hz
Search Coils: 5.75" Round Concentric Coil w/ Coil Cover, 8" Round Open Center Concentric Coil w/ Coil Cover, 12x10" Spoked Wide Scan w/ Coil Cover and 3 Lower ABS Poles
3' Cable Length
36mm (approximately 1 1/2") Speaker and Headphone Jack
Battery: one 9 volt (Required)
Battery Life: 10 t0 20 Hours (Typically)
Optimum Humidity: 30° to 100° F
Operating Modes: Silent Search Discriminate, No Motion All Metal, Motion All Metal
Weight: 2.2 lbs
Lifetime Warranty
King of Coins
Hobojo in Orange Ca USA -

The Tesoro Outlaw is a very well made 10kHz VLF machine with the ability to DISC out all dimes and only allow the US quarters to be cherry picked. It is very easy to operate. It has the ability to be ground-balanced in All-Metal mode, and once it is in the Disc mode, it will also be ground-balanced. It has a very accurate pinpoint mode that allows for a very precise location of the coin. When using the probe type method for finding coins I often will stick the probe right on top of the coin with my first try. This is a single-tone machine which has its draw backs but, with time, you will have no doubt that you are on top of a coin. Depth is from 1" to 7" on average for coins and deeper for anything larger than a US quarter. The Outlaw is a very light machine which is great for all day hunts. All the controls are right where they should be and become second nature once you begin your hunt. One note of caution: keep dirt and dust out of the center Pinpoint button and the all-metal switch by using a electrical contact cleaner that is safe on plastics. Giving it a good cleaning once a month will keep any problems away. Other than that, the Tesoro Outlaw will keep you busy digging all kinds of coins from very small hammered coins to large dollar-size coins. The Outlaw loves coins.
Aug 12, 2014
7 people found Hobojo's review helpful.