Minelab CTX-3030 Reviews, Price and Specifications
All-Purpose Land Metal Detector
Retail Price: $3,000.00 (£2,300.00)
Number of Reviews: 1
Avg. Rating (4.0 Stars)

Email to a friend.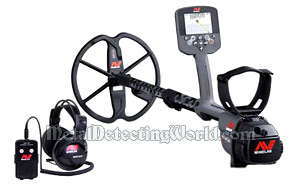 Specifications:
Technologies: FBS 2 (multiple frequency rectangular-wave transmission (1.5 kHz-100 kHz) with advanced digital coil-to-detector communications), Smartfind 2 (it analyzes and displays a target's Ferrous (Fe) and Conductive (Co) properties on a full colour LCD), GPSi (u-blox GPS positioning engine), Wi-Stream (achieves no perceivable audio time lag (<10 ms) from the CTX 3030 to the WM 10)
Waterproof: you have the flexibility of land and underwater detecting as the CTX 3030 is waterproof to 10 ft (3 m)
Multilingual: 9 different languages (English, French, German, Italian, Polish, Portuguese, Russian, Spanish or Turkish)
Display: Full colour LCD with backlight and adjustable brightness (1-10)
Backlight: Yes
USB Connectivity: XChange 2 (via USB) compatible with Windows XP, Vista and 7
Memory: Settings saved automatically while detecting and remain until changed or reset
Depth Indication: Accurate gauge active in normal detecting and Pinpoint mode
Search modes: 10 fully customizable, including 5 preset (Coins, Beach, Relic, Silver, High Trash)
Audio Tones: Customisable Tone ID Profiles - 1, 2 ferrous (Fe), 2 conductive (Co), 4 Fe, 4 Co, 35 Fe, 50 Co or Combined
Audio Type: Normal, Long, Smooth and Pitch Hold
Ground Balance: Auto Compensation and Auto Ground Balance
Pinpoint: Non-motion with modulated audio and visual crosshair on LCD, 2 modes: normal and sizing
Sensitivity Adjust: Auto and Manual (1-30)
Tune/Noise Cancel: Manual and Automatic (11 channels)
Threshold: Level adjustment (1-50), Pitch adjustment (1-30)
Target Volume Adjust: Limit and Gain (1 to 30)
Descrimination Patterns: 20 fully customizable (2 per Search Mode)
Descrimination Type: enhanced Color Discrimination (35 Fe x 50 Co = 1750 segments), Target Trace, Target Trace Pinpoint, Tone ID Profiles, Target Separatation (Ferrous-Coin and Ground-Coin - you can identify multiple targets simultaneously for accurate detecting results), Accept/Reject cursors
Standard Search Coil: 11-inch waterproof Double-D smart coil
Audio Autputs: Built-in Speaker, standard 1/4-inch non waterproof socket, custom waterproof socket (Minelab accessory headphones only)
Wireless Audio (WM 10): in standard pack only
Headphones: Koss UR30 (non waterproof)
Batteries: Li-ion pack with mains charger, 12 V car adapter supplied with Standard pack only, 8 x AA pack (with Standard pack only)
Low battery alert: Audio and visual indication
GPS Locating: see where you have been and where you are going by using the Map screen and Navigation Tool
GPS functions: GeoTrails, WayPoints, FindPoints and GeoHunts
PC Mapping: Upload all of your detector settings and treasure locations to your PC using the XChange 2 application. View the locations on Google Maps
Weight: 5.20 lbs (2.36 kgs) including Li-ion battery pack
Warranty: 3 years control box and coil
To learn about Minelab CTX 3030's advanced features, modes and settings, please visit My Search Programs for Minelab CTX 3030 and E-Trac section.
CTX 3030 Experience
Skph13 in DK -

The CTX is a very nice designed and well balanced machine compared to its weight. But it takes time to learn the machine because of many different program settings.
I love the findpoints & geohunt, wich is very usefull for me in my research. It's really good in parks and at the beach! But it doesn't go deep in cornfields. I'm not sure if that has something to do with the soil mineralization!? Since there is no way to set the operation frequency manually, I found it some times really difficult to get deeper targets. If I set sensitivity higher, that results in a lot of false signals. My treasure hunting partner uses an XP Deus metal detector, which allows for selecting a lower operational frequency, and easily detects the deep targets. I hope Minelab can and will come up with a solution for this problem.
The sensitivity settings has to be set carefully due to different interferences. I can get closer to the power lines than most people with other metal detectors before making the sensitivity adjustments. On the beach, there is no problem with having high sensitivity even without saltwater setting.
The 6" coil that I use in parks and forest is just a killer and allows for precise pinpointing. I can find good stuff in trashy parks with the 6" coil when I have difficulty with the 11" coil.
I do hope that Minelab makes the 13-15" and "gold" (small elliptical) search coils some day! They are needed!
The Minelab team is the best service minded people than any company I have ever dealt with! I would give 6 stars out of 5 for the service they have provided for me.
All in all, I'm happy with the machine. I just hope Minelab would make a couple of more coils since it s such a pricy machine (the CTX 3030 is way to expensive, price should be 1000-1200£ no more!). One should have an option of more coils.
My pros:
very well balanced;
waterproof;
16+ hours of battery life;
option for customizing and saving one's own programs;
My cons: no Xchange software for Mac;
no option for selecting operation frequencies;
little slow recovery time (reactivity);
May 10, 2014
42 people found Skph13's review helpful.