Treasure Hunter XJ9-3050 Reviews, Price and Specifications
All-Purpose/Gold Nugget Land Metal Detector
Retail Price: €457.00 ($617.00)
Number of Reviews: 4
Avg. Rating (5.0 Stars)

Email to a friend.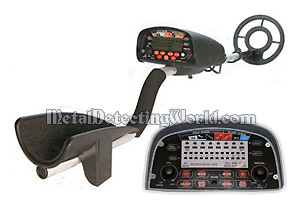 Specifications:
3-Frequency Technology: 3kHz (deep silver), 6.75kHz (most precious metals), and 18.75kHz (gold nuggests)
Operation: Turn-On-and-Go, Fully Automatic
Computer: Powerful 32 bit Z-TEX Microprocessor
Modes of Operation:
1) All Metals Mode - high sensitivity, automatic ground balance, manual ground balance for advanced use), motion is not required in this mode.
2) Motion Discrimination: - the motion detecting mode, different audible tones, visual target identification on LCD screen, depth reading, automatic ground balance, sensitivity and discrimination are fully adjustable
3) Automatic Notch Filter - pre-set programming to search for certain targets, automatic ground balance, sensitivity is adjustable
4) Selective Notch Filter - the discrimination notch can be manually set to find any specifically desired target, manual and automatic ground balance, sensitivity is adjustable
5) Deep Search with Surface Elimination - for deep searching and ignoring trash on the surface, can be used in combination with any of the modes above, and for the hard to recover, or previously missed targets, or for finding gold nuggets at depths of up to 12"
6) Pinpointing mode - motion is not required, indication of target location on LCD, manual (for advanced pinpointing) and automatic ground balance, sensitivity and discrimination are fully adjustable
NASA space age carbon and fiberglass lower stem with unbreakable non-metallic nylon connecting hardware
Target Depth Indication Readout on Bright Oversized LCD
Target ID with Advanced Discrimination
Large LCD identifies: target, detecting mode, sensitivity, and more
3 Distinctive Audible Tones for Different Metals
Controls: Mode, Auto Ground Balance, Manual Ground Balance, Volume, Adjust Sensitivity
Auto Low Battery Indication
Standard Headphone Jack with Built-In Speakers
Extendable Shaft with Dual Locks, both Cam Lock and Detent Locks, to Ensure a Solid Feel While Detecting
Waterproof 8.5" Searchcoil
Water Resistand Case/Control Box
Batteries: 2 9V Batteries (not included)
Lightweight 3lbs (6.6kg)
Warranty: 5-year limited
This is Treasure Hunters premium deep search metal detector.
Very Good for Beach, and Has Good Depth on Land
Andy in uk -

This was my first detector, and since I have owned it, I have found out that it can cope with most ground conditions. The discrimination and detection depth are very good.
In general this machine should be better rated in its functional ability. Once you have used it for a while, and got used to the sounds for different metals, you will have many happy days.
So whether this is your first buy as of a new comer, or have been detecting for a while, I think this detector is great, and no need to spend lots of money for expensive machines. HAPPY HUNTING!
Nov 08, 2014
8 people found Andy's review helpful.
I've just bought one!!!
D J Hallett in UK -

I've just bought one of these detectors, and I was very impressed with it from the start, it finds coins very good in the indoor test I did, in fact it seemed to detect quite deep holding certain coins at distances. Some of the modes will take time to work out. I went to my local park to try it out. I set it to Disc and it really found quite a few targets. When I found a target which seemed not to be junk, I set it to all metal mode to pinpoint and I found two old halfpenny's which were quite deep in the ground. As this was my first try it was not at all a bad first time effort!!! When the weather improves, I can't wait to test it on the beaches near me. It comes with a nice cover bag, quality headphones and an excellent sand and earth scooper!!! ...Nearly everything you buy today is made in China so thank you China for an excellent Metal Detector. Don't be put off because it's Chinese made. This Detector is excellent!!!
Mar 22, 2013
14 people found D J Hallett's review helpful.
TH xj9-3050
Richard in Arizona -

I bought this machine in December and have used it only 8 or 10 times since. I had a lot of trouble figuring out how to set the machine to find gold nuggets. I emailed for help and got a timely response from someone in China (Bu Chin) or something like that. He was somewhat helpful but not entirely due to the language barrier. I realized it takes some time to get acquainted with a new detector so I didn't lose hope. At one time I was considering sending it back since it didn't detect small lead pieces about the size of what I thought a gold nugget would be. (Lead has the same phase response that gold does, so if your detector can find lead then it can find gold.) When I held the piece of lead up to the detector in the air, it would sound off. But when I buried it in the ground about 3 inches or so, it wouldn't. I was told that to find gold nuggets it needs to be in the all metal mode, but that didn't work either. However, with this detector, I did find what I think was a meteorite, and a small bullet fragment about 1/4 of an inch long about 10 inches deep, so I still have hope. I found that item while using the disc/notch mode with the lead, pop top and s-cap settings hightlighted. Why it doesn't find that small of a piece of lead I have no idea. I'm not sure what type of metal the bullet fragment is, but I think it's a copper jacket since it's copper in color. This detector finds metal like you wouldn't believe in the all metal mode. I haven't hunted for coins yet, since my main focus is gold nuggets, but when I put coins in the ground in my test area, it finds them easily but the depth it says they are at is way off. So you just have to dig and sift through what you dig up. I use a plastic scoop and wave it in front of the detector untill I hear a beep and go from there to find what the detector is beeping on. The ground balance procedure is pretty easy. If you're in highly mineralized ground, it has to be re-tracked, but it's no big deal. All in all, I'm happy with this machine, but I'm saving my money for a Tesoro Lobo that I should have bought in the first place, and if I had it to do all over again, I would probably save my money and get the name brand instead of the Chinese version. I'll update again if/when I actually find some gold with it.
Mar 07, 2012
22 people found Richard's review helpful.
A Great Introduction To Metal Detecting
Russ in Shrewsbury, PA -

This was my first detector purchase, and I am very pleased with it. I paid about $175 with shipping, and that included a carrying case and good headphones. The build quality is excellent. The machine has a solid feel and shows good durability despite getting quite muddy and even rained on a little. It wipes clean very easily. It uses two 9v batteries which only last about 4 hours. This can be expensive, so I also purchased two NiMH rechargables to use in it. The sensitivity on this unit is very touchy. I usually run it at about 7 or 8 and can find coins at about 7 inches. The surface elimination feature allows you to run higher sensitivity levels in high trash areas. Pinpointing in all metal mode often finds multiple targets layered on top of each other. All things said, this detector offers more features and performance than most entry level machines above $200. Seller on amazon was offering a limited lifetime warranty but I haven't had any problems. I would recommend this to anyone looking for an easy to use machine with good depth. It gets only 4 out of 5 stars for short battery life and being a little difficult to tune sensitivity in some areas, depending on soil conditions.
Jan 22, 2012
59 people found Russ's review helpful.