White's Spectra VX3 Reviews, Price and Specifications
All-Purpose Land Metal Detector
Retail Price $1,199.95 (£750.00, €850.00)
Number of Reviews: 1
Avg. Rating (5.0 Stars)

Email to a friend.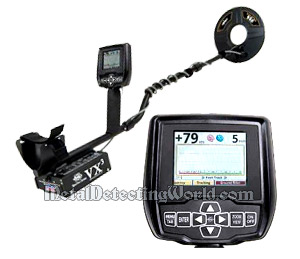 Specifications:
Operating Mode: VLF/Induction Balance
Operating Frequencies: 2.5kHz, 7.5kHz, 22.5kHz
Ground Balance Range: Ferrite to salt (approx. 95)
Programs: 8, all modifiable
Discrimination Segments: 191
Audio Modes: 4 - Standard, All-metal, Mixed Mode, Pinpoint
Audio Tones: 1 or 191
Audio Output: Speaker, headphones, wireless headphones
Display: 320x240 QVGA Color, backlit
Search Coil: Eclipse 950 9.5" concentric
Batteries: (8) AA alkaline
Battery Life: 8-10 hours
8 Key Features: Programs, Backlight, Sensitivity, Audio, Discrimination, Frequency, Ground Tracking, Filters
High-res Display: big, bold VDI numbers, target icons, on-the-fly depth reading, 3-frequency SpectraGraph target signature, Disc. Mask (accepted and rejected VDI numbers), Status Bar, and Live Control Bar
SpectraGraph: use all of the information available from all 3 VX3 frequencies to decide whether a target is worth digging. When bars are green and lined up vertically in a tight grouping, dig the target.
Wireless Ready: VX3 is equipped with the wireless module for use with optional SpectraSound wireless headphones (headphones are available as an optional accessory).
True Turn-On-And-Go Detector: 8 Preset Programs - designed to get you out and hunting right out of box. Change programs with just a couple of key strokes on the Live Control Bar.
Preset Programs: Coins, Salt Beach, Prospecting, Hi-Pro, Coin and Jewelry, Relic, Deep Silver, Demo
Accurate Pinpointing
Length: Adjustable from 45 - 52.5 inches
Weight: 4.3 lbs.
Warranty: Full Two-year, transferrable
Not impressed with Vx3
Frustrated in USA -

I have owned this machine since it first came out (3 years now ). Prior to that, I was using the very noisy and hard to use V3i. I'm not impressed by either machine not living up to what they are advertised to do. I have a friend that uses the White's M6 and without question a much better machine, my Vx3 will not hear his targets no matter what I do, change programs settings frequencies, coils, nothing helps. One day I spent 20 minutes on one of his targets to no avail, so when he dug a walker at 5 inches, well, I just wanted to cry. When I do find a target, 90% of the time the VDI numbers are off. Air test a clad quarter, and you get a VDI of 83 and, unless that quarter is sitting on top or 1 inch in the ground, that's what you get - VDI of 83. However, if that same quarter is any deeper, I have VDI readings of 85, 86, 88, and, as we all know, that should be Silver. Im not saying that I have not found targets deeper than 4 inches, but in 3 years time the number of deep targets I've found doesn't warrant the price of the Vx3.
Feb 26, 2014
20 people found Frustrated's review helpful.