Quantro Sensing Discovery Land Tone Magnetometer 1A Reviews, Price and Specifications
Land Tone Magnetometer
Retail Price: $2195.00 (£1360.00, €1550.00)
Number of Reviews: 1
Avg. Rating (5.0 Stars)

Email to a friend.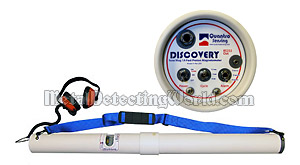 Specifications:
High speed Dual microprocessor
Faster and seamless audio detection response
Audio alarm on/off feature
Built-in 10 position Mag tuning switch - used for setting the Gamma value
Power on/off switch with alarm enabled position.
Audio target detection alarm can be set for 3, 6, and 9 Gamma
Large LED Gamma readout meter with battery condition indicator
Access plug for the gamma turning switches and recharge port
Discovery is a proton type absolute magnetic field readout magnetometer
Built-in closed ear audio headphones
Proton sensor is Omni-directional
Shipping weight approx. 32 lbs.
Weight of unit: 17lbs. (7.7 kg) including batteries
Made in two parts for easy portage
Excellent noise canceling abilities
High output with a very high gradient tolerance on the order of a 500 gammas per meter
Super Fast retune Speed
3 built-in sealed rechargeable batteries that will operate the mag. For 9 hours
Battery charging indicator
Battery condition indicator
AC Wall charger included
Fast Sample rate setting of 1.5, 3 and 6 seconds cycle times
Wide adjustable carry strap
Carry case standard
RS 232 output standard
Includes RS-232 cable
2 year warranty
The Discovery Tone Magnetometer series locate iron relics, beach wreck sites, strong boxes, projectiles, meteorites, iron pipes of all sizes, abandoned wells, old trash dumps, search archeological sites and more. With a detection radius of up to 75 feet you could easily walk along any creek, river or canal and still detect a target without even getting wet.
Batteries
Daniel Montes in US -

The 1a Fast Mag has two AGM batteries. Also, the pin switch is in reverse compared to the setting instructions. You must be metal free before using.
May 16, 2013
9 people found Daniel Montes's review helpful.