Quantro Sensing Discovery Land Tone Magnetometer 1 Reviews, Price and Specifications
Land Tone Magnetometer
Retail Price: $1595.00 (£990.00, €1130.00)
Number of Reviews: 0
Be the first to review this item
Email to a friend.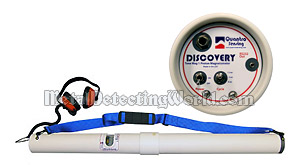 Specifications:
Built-in 10 position Mag tuning switch - used for setting the Gamma value
Power on/off switch
Large LED Gamma readout meter with battery condition indicator
Access plug for the gamma turning switches and recharge port
Discovery is a proton type absolute magnetic field readout magnetometer
Built-in closed ear audio headphones
Proton sensor is Omni-directional
Shipping weight approx. 28Ibs.
Made in 2 parts for east portage.
Excellent noise canceling abilities
High output with a very high gradient tolerance on the order of a 500 gammas per meter
1 Built-in sealed rechargeable battery that will operate the mag. For up to 8 hours
Battery charging indicator
Battery condition indicator
AC wall charger included
Sample rate setting of 2.5, 5 and 10 seconds cycle times
Wide adjustable carry strap
Carry case standard
RS 232 output standard
Includes RS 232 cable
2 year warranty
Land Tone Magnetometer 1 is excellent at detecting iron relics, wreck sites, strong boxes, meteorites and pipes of any shape or size, but has less features than the Discovery Land Tone Magnetometer 1A.